Some food-related (mostly) things we enjoyed this past week: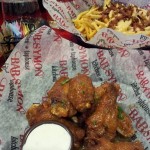 We wrapped up the holiday of eating giving thanks with a light delicious meal at Bar Symon in the Pittsburgh airport before our flight home.  I had wings, Dan had a burger topped with a fried egg (one of the best burgers he's ever had) and we shared the fries with cheddar and bacon.  Bar food at its finest.
When we got home, we were delighted to find another shipment of olive oil from our adopted tree in Italy.  I think I've mentioned it before, but it's worth another shout-out and thanks to Dan's brother and his lovely wife for the awesome gift (thanks S & I!)  This particular shipment included 3 tins of flavored olive oil:  garlic, mandarin and lemon.  They are flavored via the "agrumato" method, in which the flavor ingredients are crushed together with the olives in the olive press.  These types of oils are customarily used to dip, drizzle and/or finish off dishes and each tin has suggested uses.  We can't wait to try them all and I'm pretty sure there is a cheese plate with some good dipping bread in our immediate future.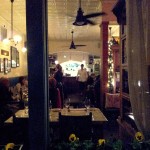 We had an amazing dining experience this week at a small Italian restaurant called Lucia, located in our old neighborhood.  We had heard good things about Lucia and became even more intrigued when we discovered how difficult it is to get into.  We made our reservation about 6 weeks ago.  Part of the reason it can be tough to get a table there is because it's pretty tiny, but it also lives up to its exclusivity in terms of the food, atmosphere and service.  The menu changes daily, based on availability of as many seasonal and local ingredients as possible.  They prepare many of the ingredients in-house, from the cured meats, to the pasta, to the marinated olives that appeared the moment we sat down at our table.  Our server was charming, very knowledgeable and made us feel like we were new friends attending a dinner party at her home.
Just about every bite of food was exquisite.  We started with 2 small antipasti courses:  the "salumi misti," which on that night included house-made black pepper salume, soppressata lonza, and crostinis with duck pate and chicken liver; and the crostini with Red Wattle lardo and honey caramelized mushrooms.  For our pasta courses (which were also available in smaller portions), we had the cocoa-infused tagliatelle with Red Wattle pork ragu and the tajarin (similar to spaghetti) with porcini broth and fresh procini.  We decided to share the "secondi" course and had the tasting of pork with Berkshire loin chop, Red Wattle polpette  crostini, and root vegetables.  Finally, we couldn't resist sharing the salted caramel gelato with honey crisp apples and rosemary for dessert.  Divine.  It sounds like a lot of food, and it was, but the portions and pacing were perfectly balanced.  (Although I feel full just from typing all that we ate.)  Suffice to say that Lucia is our new favorite restaurant in Dallas and we will be stalking their website for reservation opportunities for our next several special occasions.
It has been unseasonably warm here lately, which means that our tomato plants have continued to flourish (there are some basil plants in the mix as well.)  They have pretty much taken over our sidewalk, are encroaching on the grill and have grown just about as wide as they are tall.  We long ago gave up trying to stake them or otherwise contain them and haven't been able to cut them back because they are still covered in fruit.  We harvest cherry tomatoes pretty much every day and are now ruined for the store-bought variety since the garden-fresh ones are so much better.  Once it gets consistently cold here and the plants eventually die, it's going to be one heck of a mess to break them down and clean them up (1-2-3, not it!), but we're enjoying our tomato bounty in the meantime.