Some food-related (mostly) things we enjoyed this past week: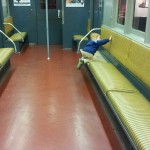 Last weekend we went to Brooklyn to visit Dan's brother and family, including our toddler nephew T and newest nephew A.  Despite a bit of chilly and rainy weather, we had a wonderful time.  One of our rainy day activities was to visit the New York Transit Museum, where T had a blast walking through (and climbing around) the Museum's vintage collection of actual subway and train cars set on the track system on the lower level.  The weather cleared up on Sunday and we had a lovely stroll along the Brooklyn Bridge Park to the "flea food market" known as Smorgasburg.  If you happen to be anywhere near the Brooklyn area this summer, we highly recommend this dining event.  So many delicious vendors, such little stomach space to try them all!  Many thanks to our Brooklyn family for a great weekend!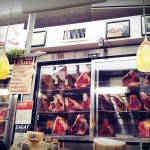 One of Dan's newest happy places is Paisanos Meat Market in Brooklyn.  They have a crazy good selection of all different kinds and cuts of meats, as well as imported cheeses, olives and other antipasto items, and oils and vinegars.  Even though we had gorged ourselves earlier in the day at Smorgasburg, the pre-marinated lamb chops we picked up at Paisanos and grilled that night were so good that we all could have eaten twice as many more.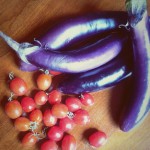 Our garden is bursting at the seams!  In particular, our eggplants have exploded with fruit and one of our tomato plants is already producing more than we can eat.  Growing our own vegetables is one of our favorite things about summer.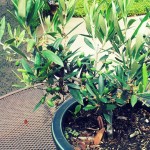 And how about growing our own olives!  I bought this mini olive tree (sort of like a bonsai version) at the grocery store last year on a whim.  It has done well in its little pot, with lots of new foliage.  I never actually expected it to produce olives, but if you look closely, there they are — a bunch of tiny green olives about the size of a pinkie fingernail so far.  It will be interesting to see if they eventually mature enough for us to pick and cure.