Some food-related (mostly) things we enjoyed this past week:
In the mood for a casual place with upscale bar food and appetizers last Friday, we found Savour Kitchen & Cocktail Room to be exactly what we wanted — decidedly un-stuffy, with a large and varied selection of small plates.  The food was good (we'll be back for the lamb sliders alone), but the best part may have been the live music.  Just a guy with a microphone and some sort of computer-operated music system, enthusiastically singing whatever seemed to move him at the moment (occasionally influenced by some of the more rowdy patrons in the bar area) was the perfect entertainment for a Friday night.
We took full advantage of the opportunity to feed our neighbors at the neighborhood block party by filling up our smoker with a variety of meat.  And Dan took the opportunity to try a few new techniques:  wrapping a brisket in bacon while it smokes, and wrapping another brisket and a tri-tip in parchment paper (after the meat reached 150 degrees in order to keep it moist and help to create a nice bark (the blackened exterior.)  We were quite pleased with the results, and given how few leftovers we had at the end of the night, our neighbors were too!
Your eyes do not deceive you — one of our favorites this week is a garden hose.  A hose featured in one of those annoying infomercials no less.  While it didn't come with a free set of Ginzu steak knives (I bought it at Home Depot), it really does work!  The "pocket hose" is very lightweight and perfect for attaching to the end of our regular hose (or it can be attached directly to the spigot), then pulling across the backyard to hand-water plants with ease.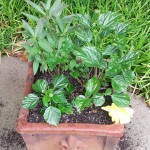 Speaking of plants, we planted milkweed this year (it's the one with the spikey leaves on the left above), in hopes of attracting monarch butterflies to our backyard, on their way to Mexico.  The female monarchs lay their eggs on the milkweed, which the caterpillars eat until they cocoon.  We were inspired by (and thoroughly enjoyed) the documentary "Flight of the Butterflies," which we saw at an IMAX theater with our niece and nephew when we met them in D.C. last month.  Even if we don't get any monarchs, the plants are a nice reminder of a wonderful time we had with family we adore.