Saturday
Sunday
Monday
Tuesday
Vietnamese Pork Chops, Miso-Glazed Roasted Root Veggies
Wednesday
Thursday
Friday
Some food-related (mostly) things we enjoyed this week:
Last Saturday was a beautiful day for a college football game, and we enjoyed watching the Northwestern Wildcats play the Northern Illinois Huskies. The home team lost, but we had fun and were grateful that the extremely drunk guy sitting near us puked in the stands BEFORE the game and that he left to pass out somewhere for most of it. Good times. Apparently a little too much of a good time for that guy.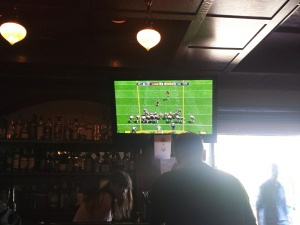 We celebrated the start of the NFL season by watching Dan's beloved Steelers at an Irish pub around the corner from our condo. It's a big place with a lot of TVs to accommodate all of the Sunday games, so we'll have a place nearby to watch the Steelers any time we can't get the game at home. Although I'm not really a big football fan, I am a huge fan of seeing my Daniel as happy as football makes him.
 My mom told us about this genius method for cooking corn on the cob in the microwave, no pre-shucking required! It could not be easier: place the corn—husk and all—in the microwave and cook on high for about 5 minutes. We cooked 2 ears at the same time, but if you're only cooking 1, you may want to microwave it for a little less time. When the corn is done, take it out of the microwave and let it cool for a couple of minutes. Cut off the bottom (the end away from the silks) and pull the husk and silks up and away from the cob (Be careful, it's still hot!) Add butter, salt & pepper, and enjoy.
We were little-kids-on-Christmas-morning excited for the opening of Uncle Julio's in our area. Until we moved away from Texas, we never would have guessed things so simple as chips, salsa, queso and guacamole could bring us so much joy. The Dallas-based restaurant has some of the best fajitas we've ever had, and the enchiladas we had there last weekend weren't too shabby either. (Definitely better than our homemade version.) It's a happy comfort knowing that good Tex-Mex is now a 15 minute drive away, as opposed to a 2 1/2 hour flight.
When we lived in Texas, we didn't cook enchiladas at home very often because there were so many readily available restaurant options, most of which were far superior to anything homemade. But since moving to the Midwest, where Tex-Mex is neither abundant nor appetizing (except for this place, which we were thrilled to discover just opened about two weeks ago), we're on our own when we crave our favorite Texas fare. So when Dan noticed tomatillos at the farmer's market a few weeks ago, we decided it would be a good time to attempt enchiladas verdes at home. If you've never had them (I feel bad for you), enchiladas verdes are basically enchiladas (cheese and whatever other filling you like—onion, chicken, pork, beef, etc—rolled in corn tortillas and baked) with a green sauce on top. Done well, the sauce is anything but basic, with a bit of tang from the tomatillos, heat from a jalapeno, and complexity from onion and garlic. When researching Tex-Mex recipes, one of our go-to resources is Homesick Texan, whose recipes are equally authentic and delicious. Her salsa verde recipe is no exception and provides just the right flavor combination to scratch that Tex-Mex itch. Since we didn't have any leftover cooked chicken or pork to use in the enchiladas, we adapted this recipe to season and cook the chicken for the filling. There's still nothing quite like the real thing (especially from here), but these enchiladas are the perfect homemade substitute until our next trip back to the Lone Star state.