Some food-related (mostly) things we enjoyed this past week: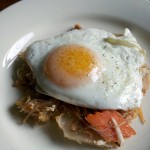 We put leftover stir-fried glass noodles from one of our favorite Thai restaurants to good use by re-heating them, slapping a fried egg on top and calling it breakfast.  We were inspired by a kimchi fried rice dish (also topped with an egg) that Dan has perfected and we'll be posting here soon.
It's Hatch green chile season, and Chuy's celebrates from now through September 9 with special menu items (and a new mascot, apparently) featuring this (spicy!) gem from New Mexico.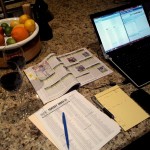 It's also almost football season, which means Fantasy Football season, which means losing Dan to the TV and computer every Sunday from now until the Super Bowl (but I'm not bitter.)  His first Fantasy Football draft (yep, he's in 2 fantasy leagues) seemed to go pretty well and he's hopeful for a good season.  Yay.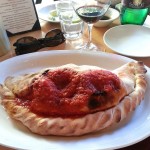 Dan was lucky enough to spend a few days in Palo Alto this week (we love that place!) and got to have his favorite stromboli at a lovely little Italian place called Cafe Renzo.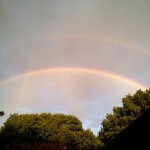 Although I didn't get to go to California this week, I was lucky enough to spot a double rainbow!  I didn't get quite as excited about it as this guy, but it was pretty cool to see.