Some food-related (mostly) things we enjoyed this past week: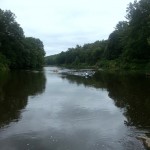 Dan went on a quick little fishing trip in Pennsylvania last weekend with his college roommates.  Even more than catching fish, they had a great time catching up with each other and hope to make the trip an annual event.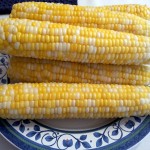 Since Dan was already in PA, we decided to extend his trip, and I flew up to join him on a visit to see his mom in Altoona.  One of the best things about a summer trip to Altoona is the farm-fresh (as in picked-the-day-you-buy-it) corn.  Tender and sweet, it is unlike anything we can get here in Dallas.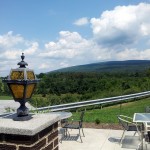 Another treat we enjoy during summer visits to Altoona is spending time outside (without sweating.)  A sunny day lunch on the patio at Jethro's, overlooking a golf course and rolling hills in the distance, is a particular favorite.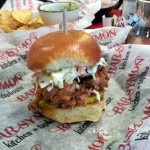 If you ever find yourself in the Pittsburgh airport, check out celebrity chef Michael Symon's new restaurant, Bar Symon.  Unfortunately, we missed the grand opening (which Chef Symon is going to attend!) by just a few days, but we'll be back — not just traveling through on our way to see Dan's mom, but also for the pulled pork sandwich.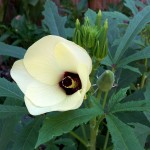 Back at home, we noticed the most beautiful bloom on one of our okra plants.  Not all the plants bloom, they don't bloom all the time, and the blooms don't last very long, but they are so pretty when you can spot one — with the palest, creamy yellow petals and deep burgandy centers.
We unwittingly happened to cook bouillabaisse on what would have been Julia Child's 100th birthday.  It was chicken bouillabaisse rather than the traditional fish version and the recipe needs some tweaking, but we figured it was a fitting (if unintentional) tribute to a master of the art of French cooking.