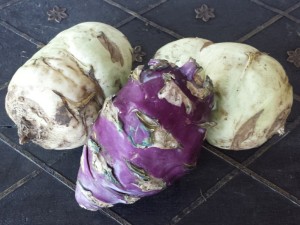 One of the farm-fresh vegetables we have enjoyed the most so far this summer is kohlrabi. We first sampled a raw piece of this strange-looking vegetable at the farmer's market—it tastes a little bit like a very mild radish—and purchased it when the woman with an interesting accent who was shopping next to me said her favorite way to eat it is sauteed with butter and garlic. Turns out, that's our favorite way to eat it as well, although we also like it raw and chopped up in a salad, and we even added some to the slaw in our fish tacos recently. If you're interested in trying it, we've heard that the smaller sizes are more tender (but one of the farmers at the market had a variety of giant ones last week that he claimed are just as good), and be sure to peel or cut away all of the tough outer skin and the fibrous layer underneath before cooking or eating it raw. We'd love to hear if anyone tries it!
Here's an interesting list of 7 Superfoods you've never heard of (with commentary about the overuse of the word "superfood.")
A story has been making its way around the Internets about a restaurant that has been doing about the same amount of business for the past decade, but in recent years has been getting bad reviews with complaints of slow service. According to the article, in an attempt to figure out the service issues, the restaurant owners supposedly compared security camera footage of diners and servers from 2004 with footage from 2014 and concluded that the reason service was perceived to be slow in 2014 was because customers spent more time distracted with their smart phones than responding to wait staff attempting to serve them. For example, the average time of a meal in 2004 was an hour and 5 minutes, while the average time in 2014 was almost 2 hours, with an average of about 20 minutes (spent busy with the phone) between the time the customer was seated and ordered food and 20 more minutes (again with the phone) between the time the customer finished eating and requested the check. There are a lot of reasons the story is probably fake (including the claim that some diners spent an average of 3 minutes taking pictures of their food, really?) but it's interesting to consider how people's dining habits may have changed now that just about everyone owns—and often brings to the table—a smart phone.
We're big fans of the Top Chef franchise and are looking forward to the newest installment, "Top Chef Duels," featuring chefs from prior seasons of "Top Chef" and "Top Chef Masters" in one-on-one cooking challenges. Premiers next Wednesday!