Some food-related (mostly) things we enjoyed, and are thankful for, this past week:
Our stash of empty moving boxes in storage has finally grown to outnumber the amount of full boxes in our new condo.  We still have a lot of organizing and decorating to do, but we're starting to see the light at the end of the tunnel (and through the windows, which are no longer covered up by a wall of boxes.)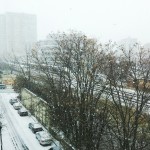 We had our first (little) snowfall last week.  It wasn't much, but enough to accumulate and stick so it counts!  Pretty sure the novelty will wear off by January or so, but snow is still exciting for us Texas transplants.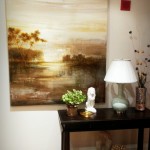 We hung our first piece of art in the condo.  This wall in our foyer is one of the few "done" parts of our new home, and it's nice to have a little clarity amidst the chaos and clutter in the rest of the place.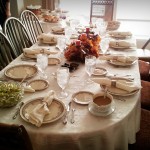 We hope you and yours had as wonderful a Thanksgiving as we did, filled with delicious food, love and fellowship with family and friends and countless blessings.  Life is good and we are grateful!