Some food-related (mostly) things we enjoyed this past week: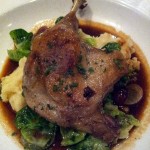 We were traveling for most of Restaurant Week 2012 so we didn't go all out like we did last year, but last Friday night we enjoyed the Restaurant Week offering at Nosh Euro Bistro.  The duck confit was amazing.  Dan had the espresso-braised short ribs for his main course, which was also delicious, but it's pretty hard to compete with crispy duck skin and richly tender and juicy duck meat.  For our starter courses, we had salt & pepper calamari and kobe beef meatballs, both of which were quite good.  Overall, we liked Nosh a lot and would go back.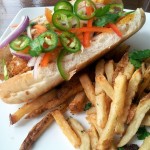 We also plan to return to a new "gastropub" we found called Park Tavern.  Often.  It's a really cool place with a huge outdoor bar and patio.  And as much as we loved the atmosphere, the food was even better.  We highly recommend the smoked chicken wings (BBQ style) and the shrimp banh mi, but there are at least 10 other items on the menu that we also want to try.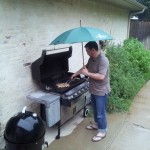 Rain is always a much-needed favorite thing during the summer here, and Dan doesn't let it stop him from grilling.  Lest you think the umbrella was to keep his hair from getting wet, its purpose was actually to keep our shrimp skewers dry when he flipped them. On a side note, check out our monster tomato and basil plants beside the grill.  That's no trick of the camera — they are as tall as a person and nearly as wide, and the tomato plants are still producing fruit!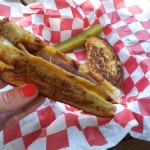 Dan has been raving about the grilled cheese sandwiches from Ruthie's food truck for months, and I finally got to try one for myself.  The "turkey trot" (turkey, bacon and cheddar on sourdough) more than lived up to his hype and may be the best grilled cheese sandwich I've ever had.  No wonder he ditches the lunches I so lovingly prepare and pack for him if the Ruthie's truck is around.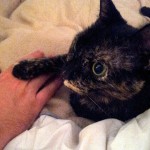 Not to get all crazy-cat-lady on you, but our most favorite thing this week is having our little Bella back home.  She had to spend most of the week in quarantine at the vet after getting a radioactive iodine treatment for hyperthyroidism.  This is the same cat who has heart disease, so it was especially important to get her hyperthyroidism treated early to prevent any further damage to her heart.  So we did and she's fine, even if still slightly radioactive (and really, really pissed at having been in a cage all week).  The world's most expensive cat lives on.