Some food-related (mostly) things we enjoyed this past week: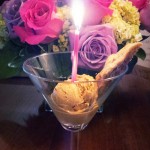 Many thanks to everyone who made me feel special and loved on my birthday last weekend!  I had a very happy day and am a lucky girl indeed to have so much love, friendship and thoughtfulness in my life.  Plus, a husband who makes me burnt sugar ice cream with a candle for my birthday wish, since I don't really like cake.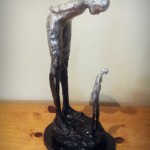 We went to a fun local art festival last Saturday and came home with a few new treasures.  The piece above is titled "Conversation with Myself," and is a sculpture that we coveted since last year's festival, where we first saw the 12 foot tall version.  Being able to meet and chat with the artist, Lorri Acott, makes owning a piece of her work even more meaningful.  We also bought a few pieces from Ethan Jantzer, who explains his unique photography-without-a-camera method way better than we ever could.
We have a new sushi obsession — spicy tuna on top of crispy rice cakes.  We first tried it at our favorite movie theater (yup, sushi at the movies!) and loved the combination of silky tuna with the airy crunch of the rice cake.  We had a similarly delicious version at one of our favorite special-occasion restaurants, Shinsei.  And speaking of Shinsei, we finally tried their "Thai fried rice" side dish, despite having over-ordered too much food to begin with (which is why we tend to only go there on special occasions), and will order it again each and every time we go back.  It's hands-down the best fried rice we've ever had, and the leftovers topped with a fried egg make for a perfect weekend breakfast.
Another "best ever" food item we recently tried is the Thai mussels appetizer from Meddlesome Moth.  All hyperbole intended (this is "Friday Favorites" after all, not "Friday Just Okays"), these mussels cooked in a coconut milk and red curry broth with Thai aromatics are life-changing.  When we asked our waiter about them and he called them "transformative" and said that they're the only mussels on the menu he eats, he wasn't kidding.  The only thing we didn't like about them is that we aren't sure how to recreate them at home.  Yet.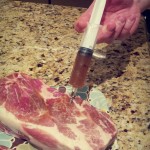 Tomorrow is our second-annual neighborhood potluck block party, which calls for thawing all the bought-on-sale giant slabs of meat from our freezer and prepping the smoker for overnight duty.  We'll be bringing pulled pork, beef brisket and tri-tip.  Hope our neighbors bring their appetites!