Some food-related (mostly) things we enjoyed this past week:
Sometimes a scary movie, a big bowl of Parmesan popcorn and a bottle of wine make for the perfect Friday night.  We watched "Silent House" on DVD last Friday — it was pretty good, but we liked either "The Cabin in the Woods" or "The Bay" a lot more if you're looking for a good thriller/horror movie for your next movie night.
We've probably mentioned it here before, but Malai Kitchen is one of our favorite Asian restaurants and it serves an amazing version of Pad Woo Sen (stir fried glass noodles with chicken, green onions, cilantro and cherry tomatoes in a sweet garlic sauce with just a hint of spice.)  On our most recent visit, we were delighted to find that Malai Kitchen added another favorite as a permanent menu item, since it previously was only available as an occasional special — the Ahi Tuna Tartare appetizer is now available any time.  Except of course if they happen to run out, as they did the day we were there.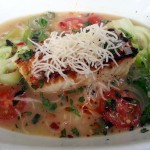 Our disappointment at the lack of ahi tuna was cured by the discovery of a new favorite  — the Garlic Lemongrass Poached Chilean Sea Bass with baby bok choy and thin rice noodles in a chile lime broth.  The fish was delicious, but the star of this dish was the broth — silky smooth and packed with chile, garlic, lime and lemongrass flavors.  It was addicting, and we both slurped it down like it was the last soup on Earth.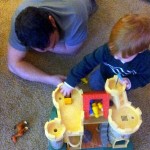 We made the trek to central Pennsylvania this week to spend Thanksgiving with Dan's mom, his brother, his brother's lovely wife and our adorable nephew.  Spending quality time with our favorite little redhead and the rest of the family made the trip more than worthwhile.  We are thankful to have them and all our family and friends in our lives and hearts.  And the little guy is especially thankful for the Fisher-Price "peoples"  that he can drop through the trap door of the Fisher-Price castle at "Bama's" (Grandma's) house.  Repeatedly.  And again.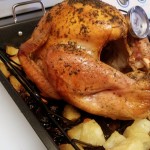 Among our many blessings this Thanksgiving is the fact that we noticed that the oven was actually OFF, about an hour after we put the turkey in it.  But the oven had been pre-heated, so luckily it was still warm and we rectified the situation in the nick of time.  No matter if the issue was user-error or equipment malfunction (we may never know for sure, although we have our suspicions), the turkey was saved and we had a beautiful Thanksgiving feast!  Hope all of you had a wonderful holiday as well.