Some food-related (mostly) things we enjoyed this past week: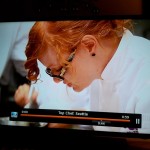 We are big fans of the show "Top Chef" and have watched every season.  The show is set in Seattle this time, and when we tuned in to the first episode, we were surprised and delighted to see a chef that we recognized.  Chef contestant Danyele McPherson is from Dallas, and the reason we recognized her is because she cooked for us once!  Dan's brother and his lovely wife gifted us with a tasting menu at a concept restaurant called Fuego several years ago.  Chef Danyele cooked our dinner that night, alongside Chef Stephan Pyles.  It was an unforgettable dining experience (thanks again, S & I!), and we're excited to see how Chef Danyele fares on this season of Top Chef.  We'll certainly be cheering her on.
We had a couple of over-ripe bananas this week and decided to make banana bread.  We don't bake very often — by "we" I mean "I," and by "very often" I mean "ever."  But I didn't want the bananas to go to waste, so I found a recipe in our Cook's Illustrated "The Best Light Recipe" book and gave it a shot.  The bread was easy to make and turned out well enough that we would definitely make it again.  Pro Tip:  If you accidentally forget to add the eggs to the bread mixture as instructed in the recipe, but notice them sitting on the counter just as you put the bread in the oven, you can quickly throw the bread mixture back in the mixer, add the eggs, put it all back in the bread pan, bake it, and not really notice a difference in the finished bread.  I win at baking!
Dan very sweetly surprised me with a "just because" bouquet of flowers this week.  He's the best and I am a lucky girl.
We love sushi and enjoy trying new places, but Sushi Sake will probably always be our favorite (so much so that this is likely not the first time we've mentioned it in a Friday Favorites post.)  They have some of the freshest and best fish around, always expertly and perfectly prepared.
We cooked acorn squash for the first time this week.  We generally prefer savory over sweet when it comes to cooking with gourds (this butternut squash with gorgonzola is a Thanksgiving favorite), so we were intrigued to try this recipe that called for roasting the squash while basting it with a mixture of balsamic vinegar, honey, chopped peperoncini peppers, thyme and salt & pepper.  We also added some red pepper flakes (and might add more next time) to help contrast with the honey and sweet squash flavor.  We'll make this squash again — possibly as a filling for homemade ravioli served with a creamy white sauce.