Some food-related (mostly) things we enjoyed this past week: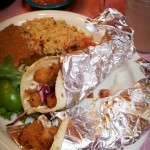 Dan's mom came down from Pennsylvania last weekend for a visit.  We consider it our Texas duty to take visitors (especially those from the north) out for Tex-Mex when they are here.  Chuy's is one of our all-time favorite Tex-Mex restaurants, and we had a yummy lunch there with E.  I branched out this time and ordered something I've never had there before — "Baja" shrimp tacos.  The shrimp was lightly battered, perfectly cooked and served in freshly made tortillas with a bit of red cabbage, some pico de gallo and a dab of jalapeno ranch dressing.  Best shrimp tacos ever.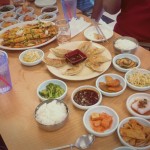 Dan's mom has long-ago friends from PA who just happen to live in our area, so we try to get together with them when she's in town.  We all enjoy Korean food, so they introduced us to their favorite local mom-and-pop Korean place called Jin Mi for dinner.  The above shot is only a portion of our feast that night:  seafood pancake (way better than it sounds) and dumplings, as well as "banchan" which refers to the little dishes of different kinds of kimchi and other condiment-type foods served along with rice and the entrees.  The food was deliciously authentic, and the company was even better.  Seeing old friends catch up without missing a beat is a wonderful thing, as is sharing our home and city with family living far away.  Thanks for braving the heat to come see us, E — we had a great weekend!
There's a new Whole Foods in town, and it is a really nice one.  It's also conveniently located near our house, perfect for picking up fresh fish on the way home to grill that evening (lots of beautiful branzini), or pulling together a last-minute meal of pre-prepared, but delicious, food (they even have pre-made duck confit, which we've only previously seen in a fancy grocery store in Paris.)  The produce section is also amazing, with tons of in-season and locally-grown fruits and vegetables (more variety of tomatoes than I've ever seen in one place), as well as plenty of unusual and exotic (to us anyway) produce.  The seafood, meat and dairy sections are also large and well-stocked.  A cool feature of their beer and wine section is a little bar with counter seating where you can sample some of their featured beers and wine (!) on tap, order a few appetizers or a light lunch and purchase a "growler" (re-usable jug or bottle) of beer or wine to-go.  The jug of Rosé wine we brought with us to our Korean feast was actually quite good, and we'll be purchasing a refill this weekend.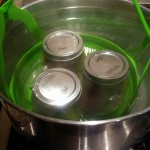 We make refrigerator pickles throughout the summer because pickling cucumbers are everywhere, and it's easy to whip up a batch that are ready to eat in just a few days and last for a couple of weeks in the fridge.  We decided to take advantage of the abundance of cucumbers and make a batch of pickles to can and preserve for several months.  It's an interesting experiment, since you can't taste them before you seal them (well you could, but they won't taste like pickles because they haven't pickled yet!)  We'll report back in the fall to let you know how they turned out.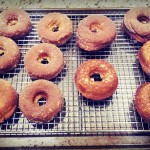 Another kitchen experiment this week turned out pretty successful — homemade cinnamon baked doughnuts!  We saw Ina Garten make them on an episode of her show "Barefoot Contessa" and were intrigued that they are baked instead of fried.  We need to work on our doughnut-pan-filling skills (fill the shape too full and you have to cut your own hole out of the finished doughnuts), but they were good and we look forward to trying new flavor combinations.