Some food-related (mostly) things we enjoyed this past week:
We thoroughly enjoyed the dinner we had several weeks ago at La Macchina, one of our favorite local Italian restaurants, and it turns out that they serve a pretty amazing brunch as well.  We had our first ever taste of croque madame (basically the best grilled ham & cheese sandwich you've ever had, with mornay sauce [bechamel + cheese = heaven] and a fried egg on top) and wondered where this delicacy has been all our lives.  We were also pleasantly surprised when our server brought out a plate of their signature house "bread" to start our meal.  We don't know what their official name is, but calling these light-as-air dough miracles "bread" seems almost criminal.  As perfect as they are with salami and cheese as a dinner appetizer, a light dusting of powdered sugar transforms them into the greatest bite of the day's first meal.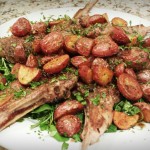 We caught a recent episode of Nigella Lawson's cooking show where she made "lamb cutlets with mint, chili and golden potatoes" and promptly added the dish to our dinner line-up for the following week.  We loved everything about it, including how easy it is to make.  The lamb is marinated in olive oil, red pepper flakes, dried mint and celery salt, then pan-seared in a skillet until medium-rare.  Using the same skillet (with rendered fat from the lamb) to brown the par-boiled baby red potatoes is genius.  Serving the lamb and potatoes family-style on a bed of arugula (or "rocket," as Nigella calls it) made us feel like we were having a fancy dinner party, just the two of us.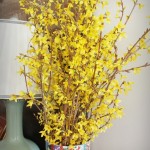 According to the weather reporter on the local nightly news, normal temperatures for our area at this time of year should be in the 40s.  That's just mean, considering how we are currently (STILL) experiencing temps in the teens and 20s, with a few days in the single digits here and there and sub-zero windchills.  If I can't have Spring outside any time soon, I'll have to make do with blooming branches inside.  I picked up some forsythia at Trader Joe's last week and the blooms brighten up our foyer nicely.
If you've never tried them, cheese curds do not sound very appetizing.  But done right, they are a light/cheesy/melty treat.  Done wrong, their name suits them perfectly.  Lucky for us, this place and this one do them very, very right.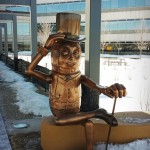 I got to have lunch with Dan at his office this week, a/k/a "Kraftown."  It's an impressive facility with a young, hip, creative and inspiring vibe (yet somehow, they still let Dan work there **rimshot**).  I enjoyed seeing the place where Dan spends his weekdays, and we had a great lunch with his colleague who also happens to be an old friend.  The food at the cafeteria there is surprisingly good (and un-cafeteria-like.)  Dan has raved about (and sent me pictures of) the Thursday buffalo chicken salad since the week he started working there.  I'm happy to report that the salad lived up to every bit of the hype.