Some food-related (mostly) things we enjoyed this past week:
First and foremost, we have to say thank you to everyone for all the kind and encouraging comments about our big move.  Having so much support from family, friends and people we've never even met in real life makes this adventure exponentially more exciting for us.  Thank you!
While condo-hunting in Evanston last weekend, we also made time to tour the local farmer's market, which was quite impressive.  We're thrilled that every Saturday from May 4 through November 2, we'll be able to walk a few blocks to the market where we can get locally-grown fruits and vegetables, farm-fresh eggs (including duck eggs!), artisan breads, homemade desserts, fresh-cut flowers, etc., etc.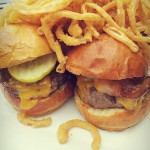 We took a break from looking at condos (spoiler-alert, we found one!) to refuel and recharge with a couple glasses of wine and some appetizers at Bar Louie.  The bacon cheeseburger sliders (with fried onion strings) and the tempura shrimp were both amazing.  It's a really good thing that Evanston is a walkable city, because with so many great restaurants there, we're going to do a lot of eating.  So we better do a lot of walking too.
Just in time for us to move away, we finally went to a local Steeler bar very close to our current house.  Longtime family friends of Dan's have been going there (and inviting us) to watch Steeler games for years, but we never got around to it until last Monday night.  Better late than never, we had a great time (thanks, Gallaghers!) and definitely hope to catch another game or two there before we leave Dallas.
Speaking of leaving (not every blog post these days is going to be about us moving, I promise), Dan's work friends took him to a farewell lunch at Fearing's Restaurant, and as a special surprise arranged for him to meet Chef Dean Fearing himself!  They've actually met before, since Chef Fearing judges the chili cook-off we have participated in for the last three years.  He might remember Dan because we won in 2011 (but probably not.)  There's a better chance that Chef Fearing remembers Dan from last year, when we won the "burnt spoon" prize, after we accidentally set our table on fire.  Who knew our final chili cook-off in Dallas would be such a memorable one!  (And, ironically, we took a trip to Chicago during that same week last year, which I also wrote about in that Friday Favorites post.  At the time, I actually said "We love the Windy City, but not enough to brave it in January."  Hmm.  Guess I better pack some courage into our moving boxes!)