Some food-related (mostly) things we enjoyed this past week:
We had a quick getaway to one of our all-time favorite cities last weekend — Chicago.  It's such a beautiful city with historical architecture, tons of shopping and amazing restaurants.  The streets are always immaculate and well-appointed with flowers and greenery.  We usually go in the summer, when blooms are plentiful, but were pleasantly surprised to see that they bust out the mums and other fall foliage to change with the season.  Wonder what they do along the streets in the winter?  Pretty sure we're never going to find out.  We love the Windy City, but not enough to brave it in January.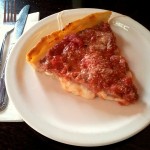 Whatever the season, for Dan, no trip to Chicago is complete without deep dish pizza.  It's like a pizza pie, without the top crust.  The bottom crust is crisp and buttery, then it's layered with cheese, meat andor veggies of choice, then topped with rich, tomato-ey red sauce.  Most deep dish aficionados are strictly loyal to their brand of choice.  Among the most popular are Lou Malnati's, Giordano's and Gino's.  After much sampling, we have decided that Lou Malnati's is our favorite.
In other Chicago food news, we had one of our top 5 ever dining experiences at Topolobampo.  We didn't take any pictures because we were too busy enjoying the food, and any description in this blurb of a post would not do the restaurant, the food or the service justice.  We can only say that if you're ever lucky enough to go there (they suggest making reservations 8-10 weeks in advance, they are not kidding, and it is absolutely worth the advance planning), we highly recommend that you do one of the tasting menus.  And make sure that at least 1 person in your dining party orders something with mole sauce (as long as that person is willing to let everyone have a taste.)
While in Chicago, we also ran a marathon!  Just kidding.  We watched thousands of other people run by our hotel (at around the first mile-marker), then went out for a huge breakfast.  It was a cool thing to see — very inspiring (but not inspiring enough to make us want to actually train for a marathon.  Or even run a single mile.)
We got to see a screening of the movie Argo this week and thoroughly enjoyed it.  It's an entertaining film with edge-of-your-seat thriller moments relieved by the occasional laugh-out-loud one-liners and rounded out with top-notch acting performances across the board.  The movie is even more compelling when you know it's based on actual events.  We give it 4 (out of 4) forks up!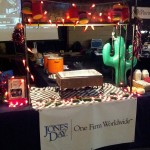 Today we participated in the 5th Annual AlixPartners Chili Cook Off.  It was our third time to compete (click for the first and second), we were defending our First Place Champion title (co-title actually — we tied for First last year, if you must know the truth), and all was going well, right up until the fire.  No big deal, just a small, propane-cylinder-changing accident that resulted in 8 foot high flames that melted the burner and caught the tablecloth on fire.  Oops.  We're still not sure how the fire happened, but nobody was hurt and thanks to quick thinking and action by the AlixPartners folks and several of our chili competitors, the fire was put out quickly, our chili was rescued and we were back in business in no time.  Seriously, the people from AlixPartners literally lived up to the slogan on their website that they provide services "when it really matters — in urgent, high-impact situations."  Like the business equivalent of when a table is on fire.  We're so glad they were there!  And, although we didn't win for our chili (we did win the "burnt spoon" award, for obvious reasons), we had a lot of fun, met a lot of great people and ate some really good chili.  To Jeffery from AlixPartners — please add a small fire extinguisher to our ingredient list for next year, thanks!