Some food-related (mostly) things we enjoyed this past week: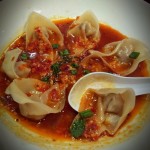 Last weekend we stopped in to P.F. Changs for a late lunch break from shopping, courtesy of a thoughtful Christmas gift card from friends (thank you, Rollins Family!)  We hadn't been there in quite a while and were excited to see a lot of new items on their menu, in addition to all the old favorites.  Their menu has always had a lot of variety, but now it is huge and we look forward to going back soon to try more of the new items.  If you like spicy food, the "flaming red wontons" are a must-try.  "Flaming" is an accurate description of their spicy-ness.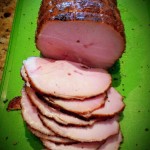 Dan recently decided to dust off his charcuterie skills and attempt to make homemade turkey pastrami.  Success!  Turns out that he actually did learn a few things from our participation in Charcutepalooza a couple of years ago (although I apparently did not learn how to spell "charcuterie" and have to verify the spelling every time.)  The pastrami was pretty easy to make using 2 boneless turkey breasts, some spices and pink salt for curing, and the smoker to finish it off.  Dan also got to use his mesh elastic netting (which he purchased last year for salami making) — MacGyver-ing the turkey into it using an empty tomato can since he didn't have an elastic netting stuffer.  We now have several weeks' worth of homemade lunch meat in our freezer, and Dan has a satisfying feeling of cured-meat accomplishment.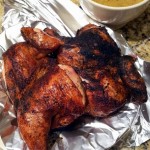 Since we were already using the smoker for the pastrami, we picked up a small chicken to cook when the pastrami was done (the smoker stays hot for a long time.)  The chicken was juicy and delicious, with a slight smoky flavor (we used apple and cherry wood chunks in the smoker), especially when paired with black pepper vinegar sauce, which should pretty much always accompany any basic chicken dish, in our opinion.
We spent a few rewarding hours volunteering at the North Texas Food Bank this week.  It was our first time (but not our last!), so we weren't quite sure what to expect.  What we didn't expect was to be very nearly moved to tears, not just by the (enormous) need for this amazing organization, but also by what it does (and can do with even more volunteer and financial help) for so many.  We worked on the "Food 4 Kids" program, which provides backpacks filled with 2 days worth of nutritious snacks and drinks to kids who qualify.  It was explained to us that the food would be going to kids who might not otherwise have anything to eat over the weekend, while not in school.  It was simultaneously heartbreaking and heartwarming to think that the juices, fruit cups, trail mixes and other snacks we moved along the line collecting into bags could be the sole sustenance keeping a child from being hungry for 2 full days.  There were only 6 of us volunteering that day, and we were vastly outnumbered by the bins and boxes of food.  We managed to fill 875 bags in about 2 hours, while the program feeds over 11,000 kids every weekend.  The bags can't fill themselves, and the program relies heavily on volunteer support.  It's easy to sign up (they offer morning and afternoon shifts, 6 days per week, and the greatest need is Mon-Thur) and it's a wonderful opportunity for a group service project.  The food bank does so much, but there is always more to be done.  We heard that this time last year, they had to call some of the schools and tell them there would be no weekend backpacks because there hadn't been enough volunteers to fill the bags.  If you're in the area and thinking about giving some time to your community, we highly recommend the NTFB.