Some food-related (mostly) things we enjoyed this past week: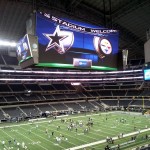 We got to watch the Steelers play the Cowboys here in Dallas last Sunday.  Although the Steelers lost in overtime, it was an exciting game and we had a really fun time.  We had awesome seats (Club Level, yo!) with lots of Steeler fans and a couple of very nice, respectful Cowboys' fans sitting around us, which made the loss sting a bit less.  If you've never been there, Cowboys Stadium (or "Jerry World" as some call it — after Cowboys' owner Jerry Jones) is quite a place.  It boasts one of the world's largest high-definition televisions (72 feet tall, 160 feet wide — impossible not to watch, no matter where your seats are), a world-class art collection installed throughout the stadium, stadium-style food with a gourmet twist (Black Angus Burgers instead of regular burgers and "Torpedo" hot dogs with specialty sauces instead of regular dogs  — they even have sushi) and, so I'm told, even a Victoria's Secret store, among many other features and amenities.  We didn't get there early enough to do much sightseeing (or photo-taking) and were enjoying our seats during the game too much to do much walking around, but we've been there before and have even taken the guided tour.  It really is a spectacular place, in every sense of the word "spectacle."  So, for those still keeping track of the Steeler Opponent-City Challenge, the current record is:  Steelers:  7-7, Foodie Lawyer:  12-2.  And for anyone curious, we're going to take a bye week this coming weekend, in light of the holiday and being too lazy to find another food from Cincinnati, since we already did Cincinnati Chili.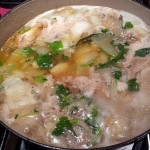 Dan has been feeling under the weather lately — his annual bout with bronchitis / upper respiratory woes — and this has been a particularly long and nasty illness.  I'm not always the most patient of care-givers, so I decided to be a little nicer  go all Florence-Nightingale and surprise him with homemade chicken soup.  I followed a recipe that called for using a whole chicken that you "hack" (actual word in the recipe) into pieces using a meat cleaver in order to make homemade chicken stock as the base of the soup.  Cutting up a whole chicken is something (not surprisingly) I have never done.  If you follow this blog much, you know I'm not particularly fond of dealing with raw meat in any form, much less hacking up a whole chicken with a giant knife.  But I persevered, the soup was delicious, Dan is feeling a little better, and let us never speak of the hacking again.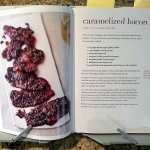 We had friends over for dinner last weekend and tried a new appetizer:   caramelized bacon from the Barefoot Contessa's latest cookbook, "Foolproof."  It sounds a little strange, but if you like bacon even a little bit, you're going to want to try this recipe.  In fact, if you're doing any entertaining this holiday season, we're going to have go ahead and insist that you make this bacon for your guests.  It combines the perfect amounts of all the right flavors — salty, sweet, smoky and spicy — into a highly addictive crispy bite.  And it's super easy to make.  For half a pound of thick-sliced, applewood-smoked bacon:  combine 1/2 cup light brown sugar and 1/2 cup pecans in a food processor and pulse until the pecans are finely ground.  Add 2 teaspoons kosher salt, 1 teaspoon pepper and 1/8 teaspoon cayenne pepper and pulse to combine.  Add 2 tablespoons maple syrup and pulse to moisten the crumbs.  Cut each piece of bacon in half and place the pieces on a wire rack set on a foil-lined cookie sheet (very important to use the foil — there will be lots of caramelized drippy-ness!)  Use a spoon (and your fingers) to evenly (and generously) spread the pecan mixture on top of each piece of bacon.  Bake in the oven pre-heated to 375 degrees until the topping is very browned (but not burned) — about 25-30 minutes.  Set the bacon aside on a plate to cool, then serve at room temperature.  You may want to cut or break the finished bacon into smaller pieces prior to serving (which would be a good time to also save a few pieces for later — there aren't likely to be many leftovers!)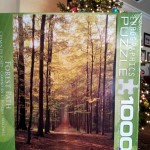 This is the time of year to celebrate traditions.  One of my family's Christmas traditions is to work on a puzzle while we're all home at my parents' house for the holiday.  (At least until most of us get bored with it and invariably leave my dad to become obsesseed with resigned to finishing it by himself after we all part ways.)  This year, we will do a puzzle and celebrate other family traditions in a most non-traditional (for us) way — we rented a lakehouse for all of us to spend a few days relaxing and enjoying the water, good weather (temps in the 70s!) and each other.  We are very much looking forward to family-time in a vacation setting, and hope you and yours have a wonderful holiday as well, however you celebrate it.  Happy Holidays!