It feels grossly insensitive to blather on about our favorite things without saying something about the tragic school shooting this morning in Newtown, CT.  Our hearts and prayers go out to those affected by this terrible, senseless act of violence.  Love your loved ones harder (especially your kids) and enjoy your own favorites more — life can change in an instant.
Some food-related (mostly) things we enjoyed this past week: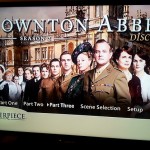 We're just finishing up Season 2 of the show "Downton Abbey" and can't recommend this series highly enough.  There's a reason that Season 2 was nominated for several Golden Globe awards and Season 1 won for best mini series last year.  The acting, story lines, dialogue, sets and scenery are all top-notch, and it's one of our all-time favorite shows.  If you haven't watched it because you're not that into "period piece" entertainment, give it a shot anyway — it's so much more than actors dressing up in fancy costumes and speaking in old-fashioned accents.  If you're not hooked after Dowager Countess asks "What is a 'week-end?'" in her privileged, snooty tone during the family's first dinner with Cousin Matthew in Season 1, then it's probably not your cup of tea after all.  But it's worth a look.  You've still got a little time to get caught up before Season 3 starts on Jan. 6!  (And if you're like us, you won't be able to resist watching several episodes in a row, marathon-style.)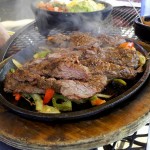 We took a break from Christmas shopping last weekend — and took advantage of the unseasonably warm weather — by enjoying some of our favorite Tex-Mex on a patio.  Sizzling fajitas, beefy tacos and the "Texas Martini" (one of the best margaritas around) hit the spot, as did being able to sit outside on a warm and sunny day in December.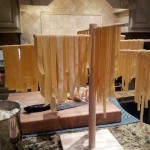 Homemade pasta is a relatively rare treat around our house, at least until Dan found and tried this easy-for-homemade dough recipe.  The pasta was really good, especially served with this boar ragu.  It was the first time we had ever cooked with boar (we used pre-ground boar that we found at Sprouts), and we were surprised by how much we liked it.  Dan detected a hint of "gamey" flavor (his palate must be more advanced than mine, all I detected was delicious-ness) but said it enhanced the overall flavor rather than detracting from it.  We'll definitely make boar ragu again.  And homemade pasta.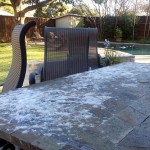 The phrase "if you don't like the weather in Texas, wait five minutes" rang true for us this week.  A few days after our Tex-Mex patio lunch, the temperatures dropped to freezing and we woke up to a very light dusting of snow!  The colder weather is a welcome change and makes it feel more like Christmas-time.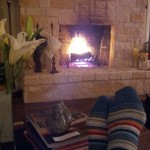 Our first snow also brought our first fire of the season.  Now it's REALLY beginning to look a lot like Christmas.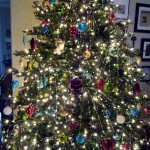 Speaking of Christmas, our tree is up and (mostly) decorated, although I will likely find myself periodically adding and re-arranging ornaments on it right up until New Year's, as I do every year.  It's a sickness.