However you feel about Facebook — love, hate or indifference — it can sometimes be a great place to find recipes and cooking techniques.  Facebook is where my mom recently discovered this clever idea for "lazy eggs" cooked in a muffin pan.  All you do is spray the muffin wells with nonstick cooking spray, add a slice of ham, some chopped tomatoes and a little cheese (or whatever egg "accessories" you like), then break one egg into each well and bake until the eggs are done.  Especially genius for cooking breakfast or brunch for a crowd.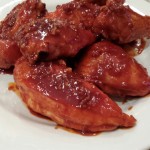 Speaking of eggs, Dan found this recipe that uses egg whites to coat chicken wings and dry them out in the fridge overnight before baking the wings in the oven to get a crispy, "fried" texture without actually frying the chicken.  We tried it and the chicken turned out pretty great (although not quite as crispy as true fried chicken), and we're intrigued to try the technique with other recipes involving chicken, breading and baking for a "fried" result.  Next time we make "unfried chicken," we'll incorporate this drying out technique.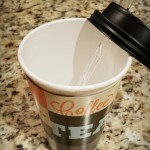 Continuing the themes of both breakfast and smart ideas, insulated disposable coffee cups with lids are perfect for hot breakfast on the go.  Whenever we make hot cereal during the week, Dan takes his in the car to eat during the drive to work.  Spoon a dollup of hot cereal or oatmeal into the cup, add a layer of blueberries (or whatever fruit you like), then repeat a couple of times.  Stick the handle end of a plastic spoon through the sip hole in the lid, then place the spoon in the cup and seal the lid.  The cereal stays nice and warm until ready to eat, and heats the blueberries just a enough to make each bite taste like a fresh-from-the-oven blueberry muffin.