Some food-related (mostly) things we enjoyed this past week:
Dan turned another year older on Monday, and nothing says "Happy Birthday!" quite like a cherubic stone monk holding a small bowl with a snowball in it.  The monk caught Dan's eye while we were shopping for dining room chairs at Pier One.  It's pretty rare for Dan to take an active interest in anything related to home decor (anything that doesn't have a remote control or involve a trip to Best Buy anyway), so I surprised him by ordering the monk for his birthday.  We both enjoy seeing Monk out on our bedroom terrace every day, serene and peacefully oblivious to the bleakness, no hope for Spring wintery conditions around him.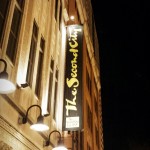 In further celebration of Dan's birth, we took the train downtown for an AMAZING dinner at Le Colonial and a show at Second City.  For our first course, we split the Pho (oxtail soup), which our knowledgeable and extremely charming waiter deemed to be the best in the city.  We wholeheartedly agree, even though we've never had pho at any other restaurant in Chicago, and have only ever tasted it one other time, in Dallas.  But it's hard to imagine any better version of this particular soup (outside Vietnam of course.)  For entrees, Dan had the "Ca Chien Saigon" (crisp, seared whole red snapper in a light, spicy-sour sauce) and I had the "Tom Xao Sate" (sauteed shrimp, asparagus, onions and scallions in a light sauce of sate spice, chili and garlic.)  Both meals were excellent.  My asparagus was so good that the shrimp was almost a distraction, and the sauce on Dan's meal had us both practically licking the plate long after the fish was all gone.  Not to be outdone by our meal, the comedy show was every bit as funny and entertaining as one would expect from the place where Bill Murray, Tina Fey, Steve Carell and countless other hilariously talented people got their start.  We wrapped up the evening by catching a cab back home and grabbing a couple of slices from the pizza place around the corner.  Not too shabby a Friday night for a couple of crazy 40-somethings.  Happy Birthday Daniel!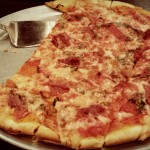 Speaking of pizza, we were pleased to discover that this little Italian restaurant in our neighborhood has really good thin-crust pizza, some with unexpectedly delicious topping combinations.  I'll eat olives with just about anything, but would never have thought they'd work so well on a pizza with salami and onions.  It's a good thing that Tuesday is half-price pizza night, because we have lots more flavor combos to try.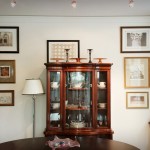 Our dining room may not have any chairs in it yet, but at least we have art up on the walls.  I was inspired to hang the pieces this way (high and vertically "stacked" with the smaller ones at the bottom) after coming across this post about the European way of hanging art in a stacked manner, especially after seeing the images from Highclere Castle, the setting of one of our all-time favorite TV shows.  If it's good enough for Downton Abbey, it's plenty fancy enough for our little Chicagoland condo!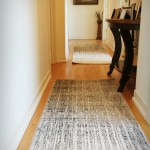 Finally, I feel compelled to share my new favorite source for rugs, which I found through this wonderful and always-inspiring design blog.  (I know, for a food blogger I sure do spend a disproportionate amount of time reading design blogs.)  eSaleRugs is an awesome site for finding very affordable (as well as crazy expensive), good quality rugs.  We've bought several rugs from there since we moved and have been more than happy with all aspects of the purchases.  It's easy to search and filter the huge selection on the site to find exactly what you're looking for, the rugs are packaged well and ship really quickly, and did I mention that they are high in quality, yet low in price?