Some food-related (mostly) things we enjoyed this past week:
Last weekend we went to the Italian market/food court/wine store/gift shop/etc, etc that is Eataly.  Wow.  The place is huge — two floors packed with all things Italian (and packed with customers/sightseers like us.)  The store (so much more than a "store") is organized by stations, with everything from pasta (fresh and dried), cheeses (so many cheeses) and cured meats, other meat and seafood, olive oils and vinegars, pantry items, kitchen gadgets, wine and other beverages and chocolate and other sweet treats.  They even have an entire station devoted to nutella.  Plus more stuff that I'm sure I'm forgetting.  It's apparently always crowded and can be a little overwhelming, but it's a really fun place to wander around with a glass of wine if you are into food and Italy even just a little bit.  They also have several restaurants, of which we did not partake because the lines were long and we had just had a lovely brunch with friends at this cool place.  But we'll go back to Eataly for sure, next time with hearty appetites and a researched list of items to purchase.
Dan was super excited to find an excellent local butcher in the next town north of ours.  They have a great selection and whatever they don't have, they will order for you.  Wide variety notwithstanding, the shop also has a friendly, small-town feel.  Case in point:  while Dan was chatting with the guy behind the counter who was cutting the steak Dan ordered and mentioned that we are new to the area, the guy said if he hadn't been the only one minding the shop that day, he'd pour them a couple of beers so they could sit and chat more about Chicagoland and meat and stuff.  So neighborly!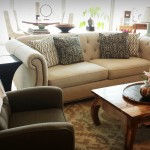 We were both super excited to have the furniture we ordered months ago in Dallas FINALLY get delivered to our condo.  Our favorite piece is probably the new off-white (a walk on the wild side for this clumsy, spill-prone girl!) sofa in our living room.  It's big (but not too big), fancy yet comfortable, and we think it fits our new space really well.  We like to think of it as "grown-up" furniture (especially compared to the futon "couch" we have been using since we've been here.)  We still have a way to go before the condo really feels like home (I'm looking at you, artwork stacked on the floor and still unpacked home office), but we're slowly and surely getting there.