Some food-related (mostly) things we enjoyed this past week:
Dan had a great first week starting his new job at Kraft Foods.  We flew to Chicago together last weekend so we could tend to some condo business, and I dropped him off at Kraft headquarters on his very first day.  The campus is beautiful and the main entrance features a cheerful macaroni statue with the inscription "You know you love it."  They also have an awesome statue of the Oscar Mayer Wienermobile!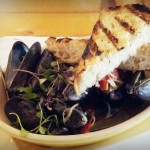 Downtown Evanston continues to impress us with excellent food options.  We stopped at Farmhouse for a quick late afternoon snack, and almost went back there for dinner it was so good.  The "tavern-cut" potato chips with fresh dill dip and the mussels (cooked with tomatoes, bacon and shallots in a white wine broth) were both outstanding.  Plus the restaurant has an interesting hip-yet-rustic vibe that we really liked.  We'll be back.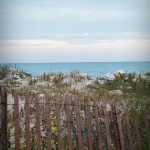 No trip to Evanston is complete without a walk over to the lake (especially before it gets too cold for me to leave the condo.)  Each time we visit, we feel so lucky that we will actually get to live there.
Back at the Dallas homestead, I made my favorite version of lavash pizza thus far.  I used pizza sauce (recipe in this post) thawed from the freezer, topped with a layer of mozzarella cheese and cooked for about 5 minutes until the cheese melted.  Then I added prosciutto (thin slices torn into bite-sized pieces), fresh arugula and a little shaved Parmesan cheese.  So good, and SO easy!