Some food-related (mostly) things we enjoyed this past week:
We had a really quick trip to Evanston, IL last weekend.  Evanston is the first suburb north of Chicago located on Lake Michigan.  It's also the home of Northwestern University.  It has a cool little downtown with a couple of high-rises, lots of shops and tons of great restaurants.  Beautiful public beaches are just a short walk from downtown.  It's a great little city and we had fun exploring it.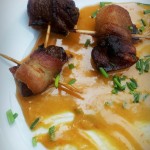 The eating portion of our Evanston tour began with lunch on a patio (the weather was glorious there last weekend — we ate every meal outside) at a tapas place.  Dan researched the restaurant before we went, so we felt compelled to follow reviewers' recommendations to try the bacon-wrapped dates, even though it's not something we typically would order.  The perfect match of savory and sweet, they were our favorite bite of the entire lunch.
The next stop on our food tour was a charming little Italian "trattoria."  Although we both enjoyed our entrees (Dan had the bronzini and I had the shrimp risotto), the hands-down best food of the evening was the homemade meatballs appetizer.  Rich (but not too rich), meaty flavor with a sweet (but not too sweet) tomato sauce — the meatballs were just right.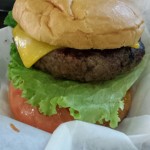 Even though we were still full from a late breakfast, we couldn't leave Evanston without trying the highly-recommended Edzo's burger.  In addition to the regular (fresh, never frozen) beef that is cut and ground in-house each morning, Edzo's offers beef "upgrades" of locally-raised and/or grass fed beef that you can order either "griddled" (thinner patty cooked on a griddle) or "char"  (cooked on a grill.)  We split an upgraded char burger with classic garnishes (cheddar, lettuce, tomato, pickle and onion.)  It was one of the best (if not THE best) burgers we've ever had.  Perfection.  We're just bummed we didn't have the time or belly room to try one of their many varieties of fries (garlic fries, "angry" fries, buffalo fries, "crazy" fries, oh my!) or hand-dipped shakes (nutella, oreo, peanut butter, as well as other specialty and seasonal flavors.)  I just noticed on their menu that they also have hot dogs and sandwiches that are probably pretty amazing too.  No wonder this little burger joint is touted as one of the best restaurants in town.
We arrived back in Big D to find our first crop of home-grown okra so far this season.  A couple of them should have been picked a little earlier (you can tell they are over-ripe if they make a loud crunch when you cut into them, which means the texture will be too woody to eat), but the other two were still good and made a nice (tiny) addition to our zucchini and tomato medley that we cooked with our parchment-roasted tilapia this week.