Some food-related (mostly) things we enjoyed this past week:
Sometimes a cheese plate for dinner makes more sense and sounds better than cooking an actual meal, especially in the summer when temps are hot and weekends are busy.  In fact, we're surprised we don't have cheese and crackers (and olives and grapes and salami and prosciutto and good bread) for dinner more often, considering how much we enjoyed this last one.  Expect to see "cheese plate" on our weekly menu a few more times this summer, especially after a friend recently introduced Dan to an amazing cheese from Washington State University that I hear we absolutely have to order and purchase, as soon as possible.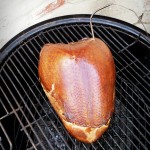 Another food item we don't have often enough is turkey breast.  And Dan will never pass up an opportunity to bust out the smoker, make fire and indulge his inner caveman by cooking meat outside over low heat for several hours.  He brined the turkey overnight (a simple salt and sugar brine), then smoked it with cherry and apple wood chunks for about four hours.  The awesome thing about cooking a whole turkey breast (besides the delicious smoky flavor), is how many different meals you can get out of it.  We served it the first night just sliced with a little BBQ sauce, scalloped potatoes and roasted brussels sprout leaves.  Then we made some of this BBQ chicken turkey salad for lunches.  Another night we had what might be our all-time favorite use of smoked turkey:  lentil soup.  Then we finished our week of comfort food faves with turkey tetrazzini.  And we still had enough for a couple of plain-but-never-old turkey sandwiches.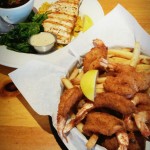 This is what it usually looks like when we go to a seafood restaurant — Dan's healthy grilled fish with sauce on the side and accompanying veggies, contrasted by my fried shrimp with french fries and extra cocktail sauce and ketchup sodium/carb fest.  I try to eat healthy as often as I can, but given the choice between fish versus something fried, I'll choose fried anything (even fish!) pretty much every time.
I know, I can't believe it either.  Our new favorite reality show is "Naked and Afraid," and I'm not afraid to say it.  Before you judge (looking at you, CM), watch an episode — it is absolutely fascinating.  If you haven't seen it, each episode features a man and woman who have never met each other until they are transported and left — naked — in some remote / unforgiving / treacherous place for 21 days with only one survival item of their choice, a small satchel, a video camera and their wits and survival skills.  It is a televised glimpse into the physical and psychological limits to which the human body and spirit can be pushed.  Plus, they are nude.