Some food-related (mostly) things we have enjoyed this past week:
We stayed at a hotel last weekend while visiting family in Brooklyn, and our room had the largest balcony/patio for a hotel room (especially by New York standards!) we have ever seen.  It may have been bigger than the room itself, and had cool city views.  It's probably for the best that cold and rainy weather kept us from spending any time out there, since the priority of our visit was hanging out with the world's cutest red-headed nephew.
Strictly for burger research purposes, we squeezed in a quick trip to Shake Shack while in Brooklyn.  Similar to In-N-Out and Five Guys, the eatery is famous for its legendary burgers, but unlike those other two, Shake Shack's menu has more variety, including hot dogs and frozen custards.  We went with the basic cheeseburger, which was definitely comparable to that of In-N-Out and Five Guys.  But which burger do we ultimately prefer?  Inconclusive.  The Best Burger Inquest continues and will require more extensive investigation.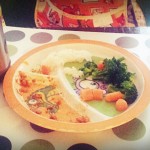 Not much makes Dan happier than when people enjoy his cooking, even more so when one of those people is his 2 year-old nephew.  We cooked our beef taco recipe (minus the cayenne pepper to make it less spicy), used ground turkey instead of beef (still delicious!), and told the little guy that it was chicken (per his dad's instruction.)  I originally made the rookie mistake of spooning the taco meat over rice, which apparently is not very appealing to the toddler palate.  But our nephew tasted the "chicken" anyway, loved it and asked for more, but "no sauce."  He probably ate four or five (kid-plate-sized) helpings, much to his aunt and uncle's delight.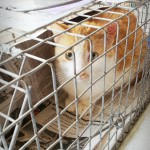 After an embarrassing number of failed attempts, we finally trapped a feral cat in our backyard, for purposes of getting her fixed and preventing future feral cats.  She was a trooper throughout the whole thing, and didn't make a peep during the car rides to and from the vet.  Outsmarting an alley cat with some tuna and a spring-loaded wire cage feels like a far greater accomplishment than one might expect.  Take note, feral cats in our neighborhood:  have trap, will spay and neuter.