Some food-related (mostly) things we enjoyed this past week: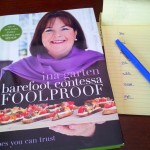 Ina Garten has a new cookbook called "Foolproof:  Recipes You can Trust."  We have most of the Barefoot Contessa's books and use them all the time.  As soon as we got this one, I picked a recipe for our weekly menu — Oreccheitte with Broccoli Rabe & Sausage.  Not only was it delicious (it is one of Dan's new favorite pastas), but it was also pretty easy to make and, true to Ina's word, foolproof.
Our garden has exploded with peppers.  We picked a bunch (all different varieties), made up a batch of our pickling recipe and canned 4 pints of pickled peppers.  We may never need to buy jar peppers again.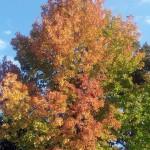 Although the temps are still in the 80s, fall is in the air.  We don't get a lot of fall foliage around here, and when we do it lasts for about 5 minutes, but we enjoy the pretty colors while they're here.
Our sister-in-law introduced us to the brilliance that is roasted kale chips in a salad (thanks Cary!)  All you do is trim the kale leaves off the stems, then drizzle the leaves with olive oil, sprinkle on some salt and roast them on a cookie sheet in the oven at 350 degrees for 15-20 minutes.  When the kale is crispy, crumble it up and sprinkle it on your salad.  The kale adds great salty and bitter (but in a good way) flavor and nice crunchy texture to an otherwise boring garden salad.  And bonus — kale is a superfood!  We may never have salad without kale chips again.
No matter who you voted for, the presidential election is an excellent reminder of how fortunate we are as a nation to have the freedom and privilege to exercise our right to choose our leaders.  Democracy can sometimes be taken for granted, and aggressive partisan politics can be exhausting, but on Election Day we could not be more proud to be Americans.