Some food-related (mostly) things we enjoyed this past week:
My parents were in town last weekend, specifically to visit the Chihuly exhibit at the Dallas Arboretum, now that the weather is cooler.  And to watch football — my mom is a die-hard Tennessee Titans fan (her allegiance goes all the way back to the days when they were the Houston Oilers — Luv Ya Blue!), but she only gets to watch them when their games are on network TV.  In order to follow his beloved Steelers, Dan has the NFL package on Direct TV, which allows us to view any (and all) NFL games every week.  So at least once a season, we try to plan a football weekend with my parents — all football, all Sunday loooong.  (Lest I sound bitter, we love visits from my parents and they are welcome here any time.  Love you guys!)  Anywho, back to Chihuly.  We packed a picnic lunch of cheeses, salami, crackers and "Le Sandwich" (our interpretation of the sandwich Dan ate every single day in Paris last Christmas — a baguette with good butter and proscuitto.  It's a lot more amazing than it sounds) and headed off to the Arboretum.  After about 25 minutes of waiting in a line of cars later, plus a drive to the off-site extra parking, plus a wait in line to get on the shuttle, we had arrived.  A gorgeous day, plus the Arboretum's seasonal Pumpkin Village, plus one of the final weekends of the Chihuly exhibit — equals a very crowded Arboretum.  But we found a perfect out-of-the-way spot for our picnic and thoroughly enjoyed our day, crowds and all.  Good news — the Chihuly exhibit has been extended through December 31, so go if you can — it's well worth the trip!
For our lunch on football Sunday, we thawed some of our leftover pulled pork and made fantastic nachos — chips, plus bean dip, plus pulled pork, plus cheddar cheese melted in the oven, plus garnishes of tomatoes, lettuce and homemade pickled jalapenos — equals the best football food ever.  And bonus points for all the favorite teams (Titans, Steelers and Texans) all winning their games that day!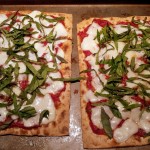 We have a new shortcut for thin-crust pizza on a weeknight — lavash flatbread.  It comes in white or whole wheat and is a crazy-easy way to make a quick "pizza."  All you have to do is brush both sides of the lavash with a little olive oil, heat it in the oven (at 425 degrees) for about 3 minutes to get it crispy, then top with whatever you like (we did tomato sauce, mozzarella and basil for a margherita pizza) and put it back in the oven for another 6-8 minutes until the cheese melts.  The only easier and almost-as-fast way to get pizza in your pie-hole would be to have someone else call a pizza place and order it to be delivered to your door.  Bonus points — the lavash freezes well and thaws in about 10 minutes.  Which is awesome if you happen to over-crisp your first 2 pieces  by accidentally leaving them in the oven too long.  Not that I would know.
We are heading to the Boston area to visit our niece and nephew today and could not be more excited!  We love those kids so much and take our roles as Aunt and Uncle very seriously.  So much so that we had to check out a couple of local Halloween stores looking for ghoulish (but still age-appropriate!) treats to bring to the kiddos for the upcoming holiday.  Their parents will be happy to know that we did NOT purchase the tiny plastic pumpkin scream machine, but only because we are going to be there and the kids love to wake us up in the morning. . . On a related note, a small package is on its way to our other beloved nephew in New York. . .