Some food-related (mostly) things we enjoyed this past week: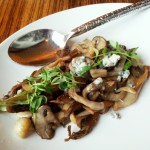 Local Chef Stephan Pyles has a couple of restaurants around town, including his namesake eatery, where we have dined a few times (including the amazing multi-course tasting menu experience called "Fuego," courtesy of an exceptional Christmas gift from Dan's brother and his lovely wife.)  But last weekend was our first trip to Chef Pyles' restaurant Samar, featuring small plates (think tapas) of various dishes inspired by cuisines from Spain, India and the Eastern Mediterranean.  We ordered at least one dish from each type of cuisine (including blistered Spanish chiles with hickory smoked sea salt; Tandoori chicken butter masala; and haloumi (cheese) stuffed squash blossoms) and thoroughly enjoyed every bite.  We'd love to go back sometime with friends so that we can sample even more of the dishes!  Tapas-style dining is a great way to try a bunch of different foods without having to commit to an entire meal of something you're not quite sure you will like.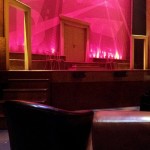 After dinner at Samar, we walked over to the Wyly Theater to see the comedy show "The Second City Does Dallas."  You may be familiar with The Second City, the improv-based sketch comedy group where many now-famous comedians got their start.  The show was very funny, with smart sketches, entertaining improv and surprisingly shrewd "zings" that showed how the group had clearly done their homework concerning our fair city.  We loved it.  We also loved the "lounge" seating at the front of theater, with rows of eclectic, mis-matched and super comfortable plush loveseats and armchairs.  Such a fun evening.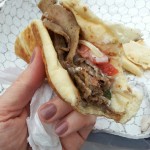 Busy weekend for us — on Sunday we went to the annual Greek Festival at a Greek Orthodox Church in our neighborhood.  Same as last year, the gyro was our favorite food item at the festival.  We also sampled the chicken souvlaki and the loukaniko (Greek sausage.)  They were good, but nothing beats the gyro.  Next year — all gyro, all the time.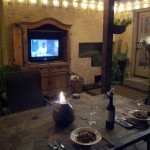 A long-time wish came true for Dan this week — television out on our back patio!  He has wanted to have a TV outside since becoming a home-owner, and thanks to the magic of technology, he finally made it happen.  This handy wireless device enables the satellite receiver for the TV inside to communicate with another TV, without having to add another receiver (or drill a hole in our house to connect receivers — something I was never too keen about.)  And it was surprisingly easy to set up, without the utterance of a single curse word.  A shocking amount of football is going to be viewed from the above location this Fall.  Technology is amazing and we are happy.