Some food-related (mostly) things we enjoyed this past week: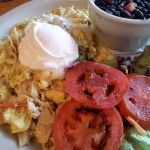 The chilaquiles at Cafe Brazil are one of our favorite weekend breakfasts.  There are many different variations and recipes for chilaquiles (we should know, we've researched recipes to attempt to make them at home), but Cafe Brazil makes theirs with scrambled eggs, tomatillo sauce, onions, jack cheese, tortilla chips and your choice of freshly pulled chicken, chorizo or sliced smoked turkey (we usually get chicken.)  Simple, savory Mexican comfort food.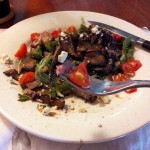 We tried out a new steak salad recipe:  pan-seared strip steaks with sauteed portobello mushrooms and red onion, gorgonzola and arugula.  The recipe didn't call for it, but we added some tomatoes from our garden.  All the flavors came together really well, and with the saute and steak juices, no dressing was necessary for the arugula.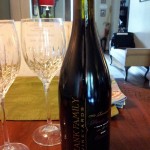 Some days call for a special bottle of wine.  We raided our wine fridge one night this week and enjoyed a nice bottle of pinot noir from the Frank Family Vineyard, which we visited last year during our trip to Napa.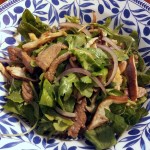 The pan-seared strip steak made a second appearance, dressed up a little differently:  combined with fresh red onion slivers, sliced shiitake mushrooms, spinach and arugula and tossed with a variation of the Asian-style dressing from this spinach and shrimp salad recipe.
Speaking of spinach, we've been adding a handful of spinach leaves to our smoothies lately.  Although it turns the smoothie green and makes it look like it would taste vegetable-y, you can't taste the spinach at all.  I know, I didn't believe it either, until I tasted it.  Seriously — if the smoothie wasn't green, you would have no idea there was any spinach in there.  Our current favorite smoothie is made with almond milk, banana, peaches (or nectarines), pineapple (and/or mango if we have it), chia seeds and spinach.