Some food-related (mostly) things we enjoyed this past week:
Not much cuter than a toddler holding hands on a walk.  Except maybe when said toddler voluntarily reaches up to hold his Aunt Kelly's hand during said walk.   That's so cute it's stupid.  We enjoyed a wonderful visit with the most adorable red-headed nephew on the planet and his parents in Brooklyn last weekend.  Highlights (just to name a few) included an amazing dinner at Perilla in Manhattan (spicy duck meatballs are a must), a fun and fascinating trip to Governor's Island, a leisurely delicious brunch at Prime Meats, spending time with Dan's brother and his lovely wife, and watching our nephew have entire babbling conversations to no one on his toy cell phone (among other extremely endearing things he does.)  We don't live nearly close enough to our extended families, so it is always worth the trip to go see them, and always sad when it's time to part ways.  So hugs, backwards toddler waves and *muah* air kisses to all our family members — we miss you guys!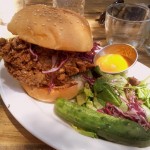 Another highlight from our trip that deserves separate mention is the chicken sandwich at Van Horn Sandwich Shop.  If you ever find yourself in or near the Cobble Hill neighborhood of Brooklyn and you like fried chicken the slightest bit, you must try one of these sandwiches.  Stunningly simple — just a giant piece of perfectly fried chicken topped with a few shreds of coleslaw and placed between a toasty but soft sesame bun, with (very) spicy sauce and housemade pickle on the side — it may be the best chicken sandwich we've ever had.  Dan's brother worried that he had over-hyped it, but once we tried it, we were more than sold.  I want another one right now.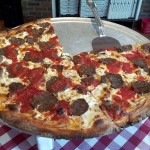 Back at home, we commemorated our trip to Brooklyn with a pizza from our local Grimaldi's.  The most famous Grimaldi's is located under the Brooklyn Bridge and is a popular tourist attraction, in addition to serving outstanding pizza (supposedly the secrets are coal-fired brick ovens and something special about New York water.)  Lucky for us (and you if you live in certain areas of Arizona, Florida, Nevada, South Carolina and Texas), there are sister restaurants around the country that also use the signature brick ovens, have custom water systems and attempt to stay as true to the original as possible.  If you like New York-style thin crust pizza, Grimaldi's is among the best.  And their meatball pizza is among our favorites — crispy thin crust topped with red sauce, mozzarella and wafer-thin slices of meatball.
Sometimes something so simple as decreeing Thursday to be Taco Night is enough to brighten up the whole week.  We used this recipe and were quite pleased with the results — well-seasoned beefy flavor with a hint of tomato and just the right amount of spice.  As good as they taste, these tacos are surprisingly easy to make and well worth the (minimal) extra effort to elevate them beyond the store-bought packet of taco seasoning to the level of Thursday Taco Night.