Quinoa, Avocado & Edamame Salad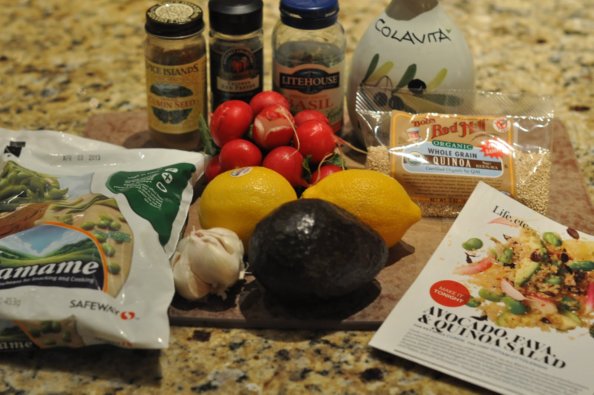 Regular readers may recall this post back in May, when we wrote about a side dish involving a "new-to-us" ingredient:  quinoa.  We liked the dish and the flavor of the quinoa, although the texture of this tiny grain is somewhat unusual and takes a bit of getting used to.  So, eight months later, we decided to make it again and maybe try to get used to it.  For me, understanding the health benefits of quinoa helped outweigh my issue with the texture.  Quinoa is a complete source of protein, since it provides the full spectrum of nine essential amino acids.  Quinoa is also high in magnesium (for cardiovascular health), copper and manganese (for a healthy immune system) and fiber (for digestive health.)  Who cares if it seems like you're picking little seed remnants out of your teeth for days after eating it — think of it as saving some of the healthy for later!  I'm kidding of course — the texture isn't that bad.  And quinoa's health benefits are no joke, so it's worthwhile to find a way you like to eat it.  I found Chef Yotam Ottolenghi's recipe in InStyle magazine (Feb. 2012 issue) and figured it would be a good vehicle for giving  quinoa another shot.  In addition to the quinoa, the ingredients are all things we already like:  edamame (could also use fava beans), lemon, avocado, garlic, radishes, basil, cumin, red pepper flakes and olive oil.  Combining lots of different textures enhanced the overall consistency of the finished dish.  Quinoa will likely never be my favorite side, but we enjoyed this salad and will make it again (sooner than eight months from now.)
Cook about a cup of quinoa according to the package directions.  Generally, you can tell it's done when the grains turn translucent with a sliver of white around the edges.  While the quinoa cooks, blanch about 8 ounces of frozen, shelled edamame in boiling water for around 3-5 minutes.
Cut the radishes in half and thinly slice them into half moons.
Segment the lemon by gently slicing the triangles of pulp away from the pith — similar to the way you would cut grapefruit segments for eating.
In a large bowl, combine the quinoa, edamame, lemon segments, radishes, sliced avocado, 1 clove of minced garlic, 1 teaspoon of dried basil (or 1 tablespoon of chopped fresh basil), 3 teaspoons ground cumin, 1/8 teaspoon red pepper flakes and 1 tablespoon of lemon juice.  Stir it all together.
Slowly stir in about 1/3 of a cup of good olive oil, using more or less oil until the salad is dressed to your liking (we don't like ours too soupy.)
Apparently pulling out all the stops on healthy eating that night, we served our quinoa salad with a fish main course.  The combination of flavors and textures worked well — earthy & seedy quinoa, nutty plump edamame, cool & creamy avocado, bitter crisp radish, and tart & pulpy lemon.  Plus the bonus "flavor" of knowing we were eating something really, really healthy.