Some food-related (mostly) things we enjoyed this week:
Dan's mom had a milestone birthday (rhymes with schmeventy) last week, so her family and friends gathered together in central Pennsylvania to celebrate with a pig roast, as one does. It was a great party, and the birthday girl had a happy day indeed.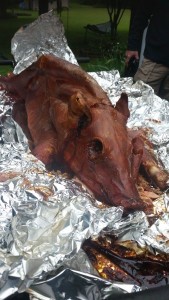 Of COURSE we took a picture of the pig and posted it here — have you met us?!? It's rather humbling to see the face of your food before you eat it, and it reminds us to more often think about the origins of what we're eating.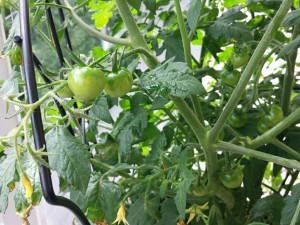 Speaking of which, some of our food is going to be coming from our very own terrace soon! Our patio tomato plant is doing well, and we have a bunch of little tomatoes that should be ripe in the next couple of weeks. We're looking forward to making these scalloped tomatoes with our first harvest.
 Who's watching World Cup soccer? Quite a few people at Dan's office, it seems. They put yesterday's USA vs. Germany game on the big screen in the common area, and people brought their laptops so they could work while cheering for Team USA. Patriotism and productivity, for the win!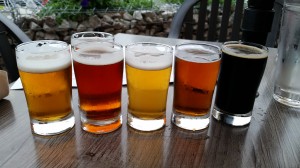 A new craft brewery just opened in town, dangerously close to our condo. Smylie Brothers Brewing Company is also a smokehouse where they make their own BBQ. They also have a wood-fired oven for pizza. And they have a hip-yet-rustic, two-story indoor space that includes a big fireplace in the lounge area. They also have a spacious patio where we sat last night and watched the cool, misty fog roll in from the lake as we finished our delicious dinner. It's good to live in Chicagoland in the summer.
Apparently, it's also good to be working at Kraft Foods, where all the employees were treated to lunch and an acoustic performance by country music star Brad Paisley this afternoon. Tough day at the office!