Some food-related (mostly) things we enjoyed this past week: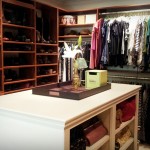 We've been fortunate in our current home to have a huge walk-in closet (it was a small bedroom that was converted into a master closet) and we are going to miss it when we move.  But it also was a bit of a curse, in that having so much space enabled us to fill every inch with stuff.  Several days and numerous donations to Goodwill later, the closet has been purged and is ready for listing photos and showings.  And we are relieved to have less stuff to move with us to Chicago.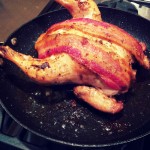 Dan is working from Dallas this week, while also helping to get the house ready to go on the market.  Which means he's also around to cook my dinner.  He made a pan-roasted game hen one night that was delicious.  He had previously read about placing bacon on top of the hen while it cooks in the oven and decided to try it.  We're not sure whether the bacon did much, other than maybe adding flavor to the drippings for the pan gravy, which was by far the best part of the whole dish.  After the game hen was done, he spooned off most of the fat from the pan, added some flour to make a light roux, then added chicken stock and seasoned the gravy with salt and pepper.  So simple, yet so perfect.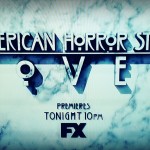 Just in time for Halloween, the new season of American Horror Story started this week!  Every season has a different theme and storyline, and this season is "Coven" about — take a wild guess — witches.  AHS is not for everyone — the "horror" part of the name is no joke — but we love it and are super excited for Coven.  The cast is amazing, with several actors from prior seasons (including the impeccable Jessica Lange), as well as impressive additions of Kathy Bates and Angela Bassett.  If the first episode is any indication, it's going to be our favorite season yet.  (And speaking of favorite shows on TV, "Homeland" is back and better than ever!)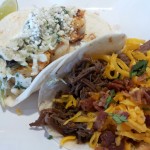 Just in time for us to move away, we found a great, new-to-us taco joint called Chiladas.  It's a counter-service, fast-food style of restaurant, but all their food is made with farm-fresh ingredients (they don't even have freezers or microwaves in their kitchens.)  All of the tacos we tried were delicious — carnitas, brisket, shrimp and fish.  Their guacamole was good too, which is always one of our benchmarks for measuring quality Tex-Mex.  We didn't partake on the day we were there for lunch, but they also have cheap margaritas (especially on their "Margarita Mondays") made with real tequila (none of that wine-a-rita imitation stuff.)