Some food-related (mostly) things we enjoyed this past week:
Inspired by this post from Michael Ruhlman, we tried a new (to us) method of preparing eggs for breakfast.  We are fans of Le Creuset and use our Dutch oven at least twice a week, so we couldn't resist purchasing a set of these mini cocettes.  (In case you're curious, "cocette" means small fireproof dish in which individual portions of food are cooked and served.  It also means prostitute or promiscuous woman.  Insert bad dirty joke here.)  The dishes are stoneware and oven-safe.  Cooking the eggs this way was really easy — we just put some thinly sliced ham in the bottom, cracked 2 eggs over the ham, added a bit of green chile sauce leftover from dinner the night before, topped it all off with grated cheddar cheese and baked it in the oven heated to 325 degrees for about 15 minutes.  The cocettes cool down surprisingly fast, so there is no need to transfer the finished eggs to a plate — just serve them in the cocettes.  The eggs were really good, although there was a bit of extra liquid in the finished dish, perhaps from the green chili sauce.  The cocettes came with a cookbook, so we plan on trying other recipes in these tiny one-pot-wonders, in addition to other variations of egg dishes.
Speaking of green chiles, it's one of our favorite times of year again — Hatch green chile time!  As usual, our Central Market goes all out, hosting their own Hatch festival, complete with recipes, specialty foods made with Hatch chiles, and of course, the chiles themselves — hot and mild, fresh and roasted.  You may have noticed from our weekly menu last week that we incorporated Hatch chiles into just about every dinner, and we didn't get sick of them at all.  The chiles will be available from Central Market through August 20, so we'll be back to stock up on our supply to portion out and freeze for use throughout the year.  And if there is a Chuy's restaurant where you live, be sure to stop by for Hatch green chile food (and drink!) specials during their festival from August 19 to September 8.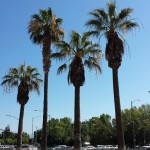 Dan had a quick trip to San Jose, CA this week for work.  Any time we go to that area of the country, we are always impressed by the perfect weather, picturesque scenery and laid-back vibe.  The distance from our family and friends, as well as the high cost of living preclude us from ever seriously considering a move there, but we always enjoy visiting.  And "trying on" a different city in another part of the country to wonder whether we could love living there is a fun thing to do.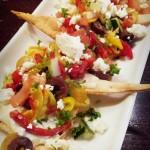 While out and about last weekend, we stopped by Gordon Biersch for a late lunch and discovered a new favorite "small plate" offering called Mediterranean nachos:  flatbread chips topped with artichoke spread, tomato, olives, cucumber, roasted red pepper, pepperoncini, feta cheese and a drizzle of olive oil.  Creative AND delicious.