Some food-related (mostly) things we enjoyed these past two weeks: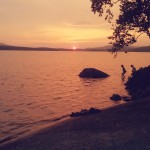 For the July 4th holiday this year, we traveled to Ellsworth, Maine to meet up with Dan's brother J, his wife C and our niece and nephew and spend a few days on the small island on Green Lake that has been in C's family for generations.  The accommodations are a bit rustic (no electricity and compost toilet system), which only adds to the charm and authenticity of the place.  It was a perfect summer getaway for us — with swims in the lake, fishing (but no actual "catching" for poor Daniel), boat rides, cards by candlelight and lounging with books in chairs overlooking the gorgeous lake.  One of the most relaxing vacations we've had in a while.  Most importantly, we got to make fun memories at a very special place with people we love.  Thanks again, guys!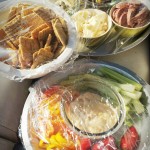 Our sister-in-law C went all out with a beautiful antipasto spread for our early evening "booze cruise" (we had wine) around the lake on the 4th.  Seriously, we should be so lucky to have an appetizer feast like this at a nice restaurant in Dallas, much less on a boat in the middle of a lake in Maine!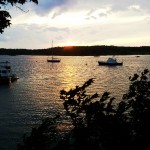 On our last night in Maine, we satisfied Dan's lobster craving (for the time being) at Abel's Lobster Pound in Somes Sound.  If you're ever lucky enough to be in the area and you like lobster, we highly recommend this idyllic spot with picnic tables overlooking the marina.  They also have indoor seating (also overlooking the marina) and take reservations (which can be key during the height of summer there, when everyone else is craving lobster too!)  We ended the meal with yet another beautiful sunset, and the best blueberry pie we have ever eaten (possibly the best any kind of pie anyone has ever eaten.)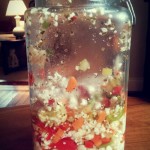 Back at home, Dan made his first successful batch of "giardiniera" using this recipe.  If you're not familiar with it (I wasn't, and I still can't properly say or spell, it so I just call it "that cauliflower stuff"), it's basically a hearty relish(ish) kind of condiment made with vegetables pickled in vinegar, oil and spices and eaten with/on everything from salads to sandwiches.  It's also pretty good on its own.  We had ours with sauteed peppers and onions on hot turkey sausage sandwiches last weekend and it was delicious.  Giardiniera is also a great way empty out your fridge crisper with leftover veggies — we made ours with cauliflower, red bell pepper, celery, carrots and serrano peppers from our garden.  Once pickled, the mixture should keep in the fridge for about a month.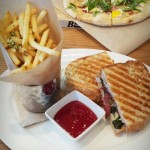 We recently found a great new local Italian restaurant called Battuto (in Italian cooking, "battuto" refers to the flavor base of finely chopped veggies — usually onions, carrots, celery, parsley, garlic — cooked in oil, butter or lard that is the beginning step of many Italian dishes.  Clever name for an Italian restaurant, no?)  The atmosphere is simple yet elegant, as is the menu.  For lunch that day I ordered the ham and cheese panini and Dan had the Italian "bacon & eggs" pizza.  Both dishes were good, and there are many more items on the menu that we look forward to trying (gnocchi, branzino and the veal burger, to name a few.)  But the most impressive aspect of our dining experience was the service.  About halfway through our meal, someone who clearly was in charge (manager? owner? executive chef, or some combination thereof?) came over to check on us and asked Dan if the eggs on his pizza were done to his liking.  Dan truthfully said that the yolks could be a bit more runny, then the guy noticed that the arugula salad on the pizza had not been dressed with lemon vinaigrette, as it was supposed to be.  He apologized profusely, despite Dan's assurances that the pizza was still good.  About 10 minutes later, our waiter appeared with a second pizza, boxed up to go and explained that it was on the house and that they wanted us to have one that was properly prepared.  And it was indeed — the second pizza was about 100 times more delicious than the first.  We'll definitely go back.