Some food-related (mostly) things we enjoyed this past week:
We're always excited to try new Tex-Mex restaurants, and have been eagerly awaiting the opening of Boca Chica in an area of town where we often spend time on the weekends.  Boca Chica specializes in "modern Mexican food" in the form of tapas (small appetizer plates of food), so it's sort of a hybrid Mexican and Spanish style cuisine.  But they also have guacamole, which is our go-to standard by which we measure whether a Tex-Mex (or Mexican/Spanish hybrid) restaurant is any good.  We only tried the regular guacamole, although they have specialty versions as well.  The verdict?  We'll definitely be back.  The guacamole was super fresh, with just the right amount of tomato, cilantro and heat.  Dan also enjoyed the ceviche sampler, but it was a bit fishy for my taste.  In addition to tapas, they also have a nice variety of tacos, salads and tortas.  And an extensive selection of tequilas, of course.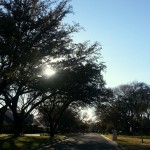 Say what you will about Daylight Savings time (and if you're like us, you will say a few choice curse words when the alarm goes off that first Monday morning), but having an extra hour of daylight in the evenings is a wonderful thing.  (At least until summer, when all we want is for the sun to go down so it will "cool off" to the high 80s already.)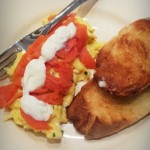 We enjoy smoked salmon for breakfast a lot, usually served on a toasted English muffin with cream cheese and a little bit of chopped red onion.  We have that particular breakfast often enough that it gets a little boring.  I also tend to get bored with scrambled eggs.  So why not combine the two, top with a few dollups of creme fraiche (basically fancy sour cream) and add a couple slices of toasted homemade bread for an out-of-the-box, opposite-of-boring breakfast?  We did, and it was delicious.
We experimented with a new side dish this week — balsamic glazed onions over fresh spinach.  We used Mario Batali's recipe from his book "Simple Italian Food" for the onions, which were good, but the recipe needs a little tweaking.  The onions didn't get quite as soft as we would have liked, and the balsamic vinegar turned into more of a sticky paste (stuck to the cookie sheet) than a "glaze."  But we salvaged the onions, placed them on top of a bed of fresh spinach drizzled with olive oil and more balsamic, seasoned with salt & pepper, then squeezed a little lemon juice over all of it to brighten up the flavors.  Once we get the technique down for the onions, this side dish will be a keeper.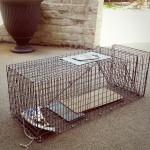 Something else we're experimenting with this week:  trapping a feral cat so we can take it to the vet for a little procedure to help prevent future feral cats.  Cue the Crazy Cat Lady jokes in 3, 2, 1…  We have a couple of stray cats that hang around our backyard for some reason (perhaps to drink from our pool.  But more likely because we I feed them.)  So we are attempting to do the right thing by working with a "trap, neuter, release" organization to help reduce the feral population, one kitty at a time.  To do this, we have to lure the cat into the trap, keep it in the trap overnight and take it to the vet the next morning.  Apparently our technique of "luring the cat into the trap" needs a little work, as our first attempt was hugely unsuccessful.  Not even close.  But we'll keep trying.  In the meantime, I should probably also begin working on my "kittens: free 2 good home" poster.