Some food-related (mostly) things we enjoyed this past week:
Lots of people have (sometimes very strong) opinions about their favorite hamburger.  We appreciate a good burger — especially since we don't have them very often — but have yet to declare ultimate allegiance to any particular burger joint.  In terms of fast food places, both In-N-Out and Five Guys rank at the top of our favorites list, due in no small part to the fact that they each boast high quality, fresh ingredients, and because they both make a really good, quick burger.  Someday we'll do a post debating Five Guys versus In-N-Out, but for now, the In-N-Out burger (always order it "animal style") takes the lead simply because there is one about 3 minutes from our house and has a drive-thru, while the nearest Five Guys is about 7 minutes further away inside a mall.  And we are lazy.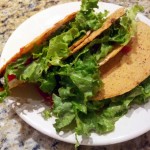 We've written about our homemade beef tacos before, but they are good enough to garner mention as a favorite every time we make them.  We've discovered that when it's just the two of us, the recipe yields enough leftover meat for what we affectionately call "Taco Mac" — a layered, casserole type dish made with taco meat, macaroni pasta, leftover taco shells, enchilada sauce and cheese.  It's so delicious that we might actually prefer it over the original tacos!  We're making Taco Mac tonight and my mouth is watering as I type this.
Favorite New TV Show Alert:  Anybody else watching Kevin Bacon's new show, "The Following," on Fox??  If not, and you like psychological thriller / suspense / drama television with top-notch acting, plenty of  jump-out-of-your-seat scenes throughout and one of the best evil-but-charming character villains since Hannibal Lecter, you should.  It's so good that we get quite impatient waiting a week between episodes  (new shows air on Monday nights.)  But be warned:  it's dark, and may not be one you want to watch right before bedtime.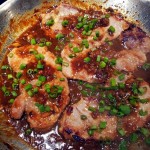 I'm generally a follow-the-recipe kind of cook and rarely, if ever, come up with my own kitchen creations.  But, faced with a package of thin-cut pork chops that needed to be cooked and the inability to find the recipe I had originally picked for the pork when menu planning, last night I improvised.  I started with this recipe (simply because it called for thin-cut pork and other ingredients we already had on hand), made several changes along the way, and ended up creating a dish and sauce that we can't wait to try again.  Nevermind that I accidentally overcooked the pork just shy of shoe leather, the sauce was amazing!  I followed the original recipe's direction to coat the chops with miso and garlic, but used mirin instead of sherry (and next time will add a little ginger.)  After pan frying the miso-coated chops, I used more mirin to de-glaze the skillet, then added a little chicken broth, some chopped mushrooms and chili garlic sauce and simmered until it all thickened into a savory, slightly spicy Asian sauce.  It's an adaptation to be sure (rather than a true original recipe — do those even exist?), but one that I personally consider to be a creative culinary triumph!