Some food-related (mostly) things we enjoyed this past week: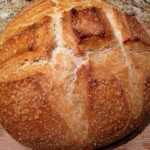 Dan has renewed his obsession experimentation with homemade bread.  Specifically, he's working on perfecting the Dutch-oven-baked, boule-style bread.  Actually, rather than perfect, we'll settle for crusty outside and less-dense-than-a-hockey-puck inside.  Out of three loaves this week, we got one with a perfect crust but dense middle (see above), another with a beautifully airy inside and weirdly over-floured outside, and one that was mediocre inside and out.  To be continued.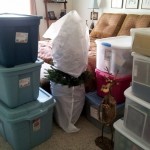 Just a few weeks post-Christmas (but still less than a month!), we finally packed up the trees and all the Christmas decor.  We blame the delay on attempting to pack everything in a more organized manner this year (hooray for new bins with matching lids that don't have to be duct-taped shut, decorations organized by room/purpose, and labels!)  Dan is always a little sad to see the Christmas stuff get put away in the attic (possibly because he is the one who has to actually be in the attic, storing the bins that I pass up to him), but the Scrooge organizer in me loves to have my house and all of its stuff back in order after the holidays.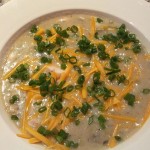 We made our first batch of green chile chowder so far this season.  It's rich, creamy, hearty and a little bit spicy — perfect for a chilly winter evening.
"Dinner salad" takes on a whole new meaning when you add grilled steak, caramelized onions, fresh tomatoes and homemade blue cheese vinaigrette.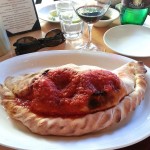 Dan had a quick work trip to Palo Alto, CA this week — one of his (and my) favorite places, in no small part due to the Calzone Quattro Stagioni at Cafe Renzo.  It doesn't get much better than perfect pizza dough filled with salami, prosciutto, artichokes and mushrooms, baked until golden brown, then topped with a light marinara sauce.  Dan loves this lunch so much that I'm pretty sure this is not its first appearance on Friday Favorites.  And probably will not be its last.