Some food-related (mostly) things we enjoyed this past week:
Taste Addison:  A combination of food (over 60 Dallas-area restaurants set up booths offering their best and most popular menu items); music (2  different outdoor stages featuring live music all afternoon and evening — we saw Mat Kearney on Saturday night, great show!); arts & crafts (showcasing vendors' beautiful jewelry, art and wares); and a mini-midway with rides and games.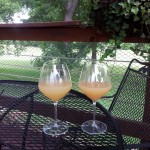 Brunch at Jake's:  Late morning, sitting on the huge (uncrowded) deck under the trees and overlooking the golf course, eating surprisingly (for a place that mainly serves bar food) delicious breakfast, sipping perfect mimosas.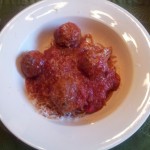 Sunday Sauce and Meatballs:  Possibly Dan's best signature comfort-food dish, made even better when shared (one of my brothers was in town — great seeing you Adam!)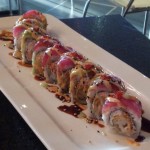 Sushi Axiom:  New location in our neighborhood, enjoyed the "Cherry Blossom" roll, loved getting an unexpected, bonus dinner together when Dan's business trip got cancelled.
Nudo Olive Oil:  Spring shipment of olive oil from our very own adopted tree in Italy!  A super cool and unique birthday gift from Dan's brother and his wife this year (let's be honest, our sister-in-law did all the work) — thanks, I & S!