Some food-related (mostly) things we enjoyed this week: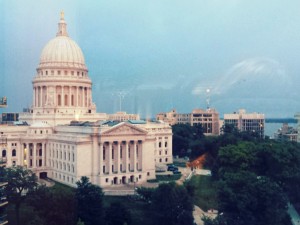 Dan had a quick work trip to Madison last Friday and I went along for the ride. It's a great little city and we thoroughly enjoyed our 27 or so hours there.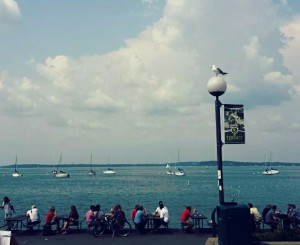 One of Dan's friends from work went to law school in Madison and after they were done with work, he took us to the Terrace at the University of Wisconsin's Memorial Union. Described as "Madison's most popular back porch," it's a lovely spot to unwind for a few hours on a beautiful Friday afternoon in the summer, sipping cold beverages, listening to live music and watching the boats and people. Even though it's a huge outdoor space and was pretty crowded that day, it still felt relaxing and intimate—like hanging out on the back porch with friends at your favorite neighbor's house.
Dan's friend talked up the Madison farmer's market quite a bit, so we had to see what the buzz was about Saturday morning. Wow. The market is HUGE, with vendors of all kinds stacked booth to booth all the way around the Capitol Square. Quite impressive! Street musicians were playing throughout the square as well, including this band that could have been auditioning for the movie "O Brother, Where Art Thou," costumes and all.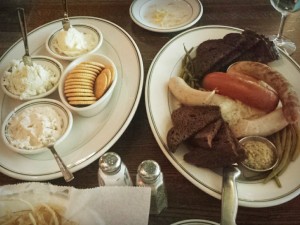 Our trip to Madison would not have been complete without sampling some meats in tube form and various kinds of cheese. The trio of cheese spreads and "Wisconsin's Best Wurst platter" at The Old Fashioned did not disappoint. (Not pictured—only because it wouldn't fit in the picture with the other food—the giant plate of fried onion strings that I had to force myself to stop eating. It's probably a good thing for our health and waistlines that we don't live in Madison.)
Shout out to Dan's brother J and our sister-in-law C for recommending the Showtime show "Ray Donovan" to us. It's a little like a Boston version of "The Sopranos" meets a Hollywood version of "Scandal" and is hands-down our current favorite show on TV.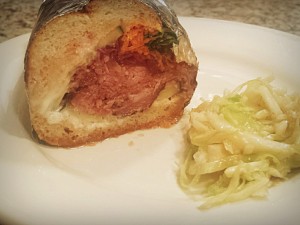 In a "lemons to lemonade" moment, we salvaged a disappointing dining experience at one restaurant with take-out from another. All week, we had looked forward to Thursday night, when we planned to sit outside at La Macchina, eating a delicious dinner and watching the final "Let's Dance Evanston!" concert of the summer. From the moment we were seated at La Macchina, the service was deplorable. Dan finally had to go inside to ask for someone to even take our drink order, and they sent one of the cooks out to attend to us. He brought us our wine and appetizer, but no one ever spoke to us again, until Dan again had to go inside and ask someone to send out the check. Unhappy and still hungry, we passed by Soulwich on our way home. We've been wanting to try their food, so we got the Indonesian Ginger BBQ Pork sandwich and homemade Asian slaw to take home and share. Both were so delicious that we ended up glad that our initial dinner plan fell through.