Some food-related (mostly) things we enjoyed this week: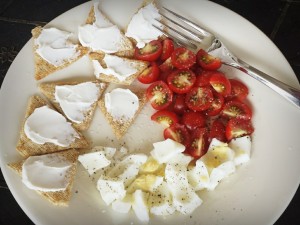 Our patio-grown tomatoes are finally ready to eat, and we enjoyed the first batch with one of our favorite breakfasts: tomatoes, hard boiled eggs and crackers with cream cheese.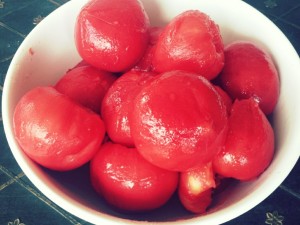 Tomatoes are in season at the farmer's market as well, so we bought a bunch last weekend to make Sunday Sauce from scratch. Flash boiling and peeling the tomatoes was surprisingly easy to do, and the sauce turned out great. We plan on making more in the coming weeks and stocking our freezer with sauce to thaw in the winter to remind us that we will eventually thaw out as well, and summer will return.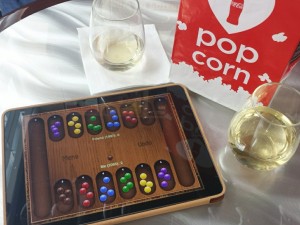 The word "mancala" means "to transfer" in Arabic and refers to a strategy game that involves moving stones around a board. We first played it with our niece and nephew and have recently become rather addicted to it. We have electronic versions on our phones and on Dan's iPad, as well as the tabletop version. It's fascinating because no matter your strategy (or lack thereof, in my case), the outcome of every game is different. Each game is pretty quick too, perfect for several rounds at the bar attached to our local movie theater, with some popcorn and a couple glasses of wine.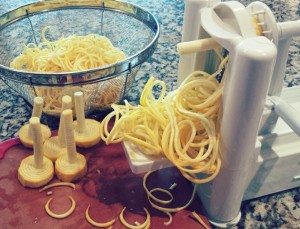 New Kitchen Toy Gadget Alert: We have purchased the spiralizer. For our maiden voyage, we used it to cut long, thin strips of yellow zucchini "pasta" (a/k/a "zoodles") to serve with leftover Sunday Sauce. It was equally delicious and easy. We peeled 3 large zucchini (probably could have done 4), cranked them through the spiralizer, squeezed out the excess moisture with paper towels, sauteed the zucchini in hot olive oil in a skillet for about 2 minutes, then added a little of the heated sauce to the skillet, covered it and let the zoodles steam for a few more minutes. We topped the zucchini with more sauce and garnished with parmesean cheese and chopped basil. Zamazing.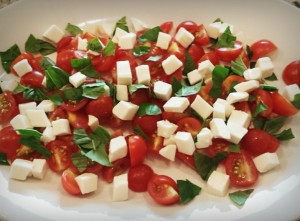 We paired our zoodles with a Caprese salad made with our patio-grown tomatoes and basil, along with farmer's-market-fresh mozzarella and olive oil. We're eating well this summer.