Some food-related (mostly) things we enjoyed this past week:
One of the things we miss about Dallas is the availability of Tex-Mex restaurants.  Although Mexican food (as we know it) is not nearly as prevalent here in Chicagoland, we look forward to trying it when and where we can find it.  While running errands last weekend, we drove out to a shopping area called The Glen, for the sole purpose of trying the Mexican restaurant there called El Jardin.  It wasn't quite as good as some of our old Texas favorites (Mi Cocina and Chuys:  you are sorely missed), but El Jardin met several of our Tex-Mex requirements pretty well — balanced margaritas (not too sour, not too sweet); salsa with fresh-roasted flavor; well-seasoned chicken in the flautas and excellent char-grilled flavor on the carne asada.  We'd go back there.
We'll also go back to The Glen for the shopping opportunities, including a shop that sells a wide variety of olive oils and vinegars.  It was interesting to taste some of the different oils and pick up subtle flavor notes and profiles — almost like a wine tasting.  According to the sales clerk, the taste of the olives can be influenced by other types of trees growing near the olive tree.  I used some of the olive oil we bought that day to make this vinaigrette the next evening, and Dan picked up a very slight apple flavor in the salad, even though there were no apples in it.  Dude either has a really sophisticated palate, or a very active imagination.
We took advantage of balmy temperatures in the 30s (did I really just type that?) and calm winds last Sunday by walking over to the lake to see how much of it is frozen.  From what we could see, a good bit of the lake is iced over, with huge snow drifts along the banks and ice crystal formations at the edges.  It was really beautiful to see.
A couple of slightly warmer days this week also meant that Dan could be outside on our terrace — without coat, hat, gloves and scarf — to grill our dinner.  The BBQ game hen was the perfect little sneak peek into what will surely be an amazing start to the grilling season this spring.  In about 3 more months.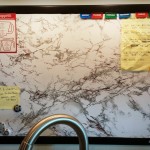 We don't currently have a backsplash in our kitchen, which doesn't really bother me at this point, except for the wall space above the kitchen sink.  Until recently, doing the dishes involved staring at a blank white square that was slowly acquiring splatter stains and spots (and was slowly driving me insane.)  So I stuck a big, faux marble-patterned bandaid on the problem by hanging our old magnetic dry erase board in the space.  I tried to make the board look more kitchen-y and less office-y by covering it with self-adhesive contact paper in a marble pattern (found at our local Lowes.)  We can't write on the board, but the magnets still stick through the contact paper so we can use to board to put up notes, our grocery lists and our weekly menus.  And I can just wipe down the contact paper if anything splatters up there from the sink.  Sanity saved.  (For now.)