Some food-related (mostly) things we enjoyed this past week: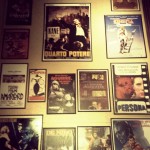 Last weekend we walked over to our local movie theater (it's that close!) for dinner and a show.  The theater has a great little bar where you can get "real" food (meaning something other than popcorn and candy) and drinks (meaning beverages of the adult variety) before or after your movie.  They also have live music on Friday and Saturday nights.  The atmosphere is cool, with leather couches and chairs or more traditional bar-style tall tables, and a huge wall featuring old movie posters along the 50-foot ceiling side of the room.  The food was good — upscale but un-fussy bar food.  Having the bar adjacent to the theater makes for an entertaining evening, and can make certain movies less depressing even more enjoyable.
One of our favorite breakfasts lately is a sandwich made with turkey sausage, pepper jack cheese and a fried egg on a toasted English muffin.  It's quick, easy and relatively healthy.  We use these turkey sausage patties, which come in a 12-pack.  When we have this breakfast, we usually cook 6 patties (they are small — 2 per sandwich plus a bonus patty on the side), then freeze the other 6 for breakfast another time.  While the sausage cooks, toast the English muffins (we like this brand, found near the eggs at the grocery store), then place a slice of cheese on one half of the muffin to melt.   Spread a little butter on the other half of the muffin if you want.  When the sausage is almost done, cook the egg — we have a tiny non-stick skillet that is the exact circumference of an English muffin, for a perfectly-sandwich-sized fried egg every time — then assemble the sandwich and enjoy.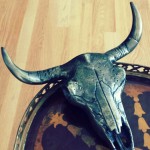 In unrelated, condo decor news, this small brass cow skull that I recently found at Urban Outfitters sits on an end table in our living room and reminds us fondly of Texas.
And this new print, also from Urban Outfitters (guess what store happens to be really close to our condo?) hangs on a wall in our home office and reminds us whimsically of a Wes Anderson film.