Some food-related (mostly) things we enjoyed this past week:
We took a quick trip to Dallas last weekend — I had a hair appointment and Dan had an appointment with some BBQ.  Pecan Lodge is by far the best barbecue in Dallas, and it's well worth the return trip to Texas (so are my highlights).  Not surprisingly, BBQ this good is also really popular, and people wait in line for hours to get it.  Our friend Maynard clued us on to an easier way to get our meat fix faster by waiting in a much shorter line for those ordering at least 5 lbs of BBQ.  Behold, "The Trough" — a sampler that includes brisket, pulled pork, sausages and ribs.  Our friend was also kind enough to agree to help us eat the 5+ pounds of meat and brought his son and nephew to assist as well.  Thanks Guys!  One "Trough" would have been plenty, but Dan lives by the philosophy that anything worth doing is worth over-doing, so he ordered extra brisket and sausages too.  A lot of meat was consumed that day — enough to satisfy Dan's Texas BBQ cravings, at least until I'm due to get my roots touched up again.
No trip to Texas is complete without Tex-Mex, and we found a great place right across from our hotel.  It was even warm enough to sit outside, which was a nice break from the "polar vortex" happening back in Chicago.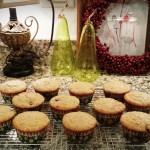 We recently discovered a new breakfast food to add to our weekday morning routine — 8 Grain Hot Cereal.  It's quick and easy to make, and it's warm and filling on a cold day.  It also makes delicious muffins.  I followed the recipe on the package, but added a couple of overripe bananas, a few drops of vanilla extract and a little lemon zest.  The muffins were light, fluffy and moist — not at all what you would expect from using whole grains.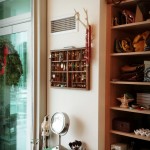 I finally tackled one of the last remaining unpacking/organizing projects remaining from our move — my jewelry.  I love any and all jewelry, but most especially the cheap inexpensive costume stuff (lucky for Dan), of which I have a LOT.  It was quite a challenge to figure out how to store and display all of it in our new closet space, but it's (mostly) done and I even have some storage space to spare.  Chicagoland Charming Charlie here I come!  Texas-based  Sam Moon will have to wait for Dan's next Texas BBQ craving and my next hair appointment (which may or may not already be scheduled).