Some food-related (mostly) things we enjoyed this past week: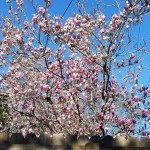 One of the earliest signs of Spring in our neighborhood is a tree with beautiful, big pink and white blooms that we can see when driving through our alley.  The tree is unremarkable (and goes un-noticed) all throughout the rest of the year, but when I see the blooms appear on those bare branches in late February each year, it makes me happy that my favorite season is just around the corner.
Something that makes Dan happy is the acquisition of a new kitchen toy gadget, even more so when that particular device is related to and interacts with his baby iPad.  He has long been on the hunt for a reliable remote thermometer for grilling purposes — the kind where you place the thermometer in the meat while it's on the grill and can monitor the temperature from a separate device away from the grill.  Lo and behold, the iGrill.  This extremely handy tool syncs with your iPad (or iPhone or iPod) and allows you to do cool things like research and program the correct temperature for whatever kind of meat you happen to be grilling (and I'm sure it does countless other really awesome things that justify its purchase.)  You just insert the thermometer into the meat, set the desired temp on the iPad, then keep an eye on the screen to notify you when the meat reaches that temperature.  You can even set an alarm (with a variety of ringtones!) to sound when the meat is done.  Technology continues to amaze.  On a related note, Dan requested that I issue a bit of a PSA here for grilling novices that meat will continue to cook for a bit, even after you remove it from the grill, sometimes increasing in temperature up to 10 degrees.  So be sure to adjust your desired done-ness temperatures with that fact in mind, and happy grilling.
We try to eat breakfast every day, and we're big fans of the Kashi brand of cereals (annoying commercials aside), since they have a lot of fiber and protein but don't taste like cardboard.  Mixing the "Go Lean" cereal with Greek yogurt is one of our favorite on-the-go quick breakfasts.  Recently we discovered that Kashi also makes frozen waffles, so we had to try them.  With 150 calories, 5 grams of fat, 4 grams of protein, and 24 whole grains per serving (2 waffles), they are a relatively healthy alternative to the usual breakfast routine, especially when craving something a little on the sweeter side.  They're also quick and easy to make — straight from the freezer to the toaster to your plate.  With a little butter and maple syrup, these waffles are an easy, yet decadent way to start the day.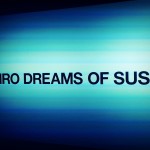 Based on the recommendation of a friend in Chicago (Hi J.M.!), we watched the documentary "Jiro Dreams of Sushi" this week and thoroughly enjoyed it (subtitles notwithstanding.)  The movie tells the story of Jiro Ono, a master sushi chef (some consider to be the best in the world) in his 80s, whose 10-seat, sushi-only restaurant in a Tokyo subway station was the first of its kind to receive 3 Michelin stars (the restaurant/hotel guide's highest rating, given to eateries "worth a special journey.")  The film is about more than sushi, however, in that it also explores Jiro-san's incredible work ethic and drive for excellence, as well as touching on his relationship with his sons, who have followed in his footsteps, becoming sushi masters themselves.  If you're into food, like sushi even a little bit and appreciate excellent documentary filmmaking, we highly recommend it.