Some food-related (mostly) things we enjoyed this past week: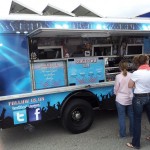 On Saturday, we attended a food-truck-festival of sorts to benefit the Leukemia & Lymphoma Society.  We love food trucks (just beginning to become a "thing" here in Dallas) and festivals, and the LLS is an important charity.  We didn't love waiting in line an hour and a half for a couple of tacos (as good as they were.)  It seems that we got to the festival at the exact busiest time of day — all the lines for every truck were very long.  But we're still glad we went and look forward to sampling food from the other trucks as they cruise throughout our local area.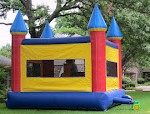 In addition to the long lines, our visit to the food truck festival was cut short by our need to go home and prepare caprese bites and proscuitto- wrapped melon for the first annual block party on our street.  Our next door neighbors (Hi Craig and Emily!) graciously hosted a giant bounce house on their lawn for all the kids.  While the kids bounced themselves silly, the adults enjoyed good food, drinks and conversation.  We're a little embarrassed to admit that after nearly 6 years of living in our current home, Saturday was the first time we met many of our neighbors.  It was a fun gathering and we enjoyed meeting everyone.  We feel lucky to live where we do and look forward to getting together with our neighbors more often.  Chili Cook-Off in the Fall!
Although we didn't get to spend Mother's Day with either of our wonderful mothers, we celebrated them by treating ourselves to an amazing brunch at an old favorite restaurant, Terilli's.  (It was the least we could do.  We love you Mom/J and Mom/E!)  Dan had the Sauteed Lemon Veal with poached eggs and hollandaise.  Wow.
Also wow?  The Chihuly exhibit at the Dallas Arboretum, which we attended Wednesday evening.  We're working on a full post about it and will save our gushing comments for that, but it was a major favorite of our week, and we highly recommend you go see it if you're in the Dallas area between now and October.
We're trying to enjoy as much patio time as we can these days, while the temps still cool off a bit in the evenings.  Dan made enough delicious seafood paella for a small army on Sunday, and we made an event out of it by dining poolside.