Panzanella (Eggplant, Tomato & Bread Salad)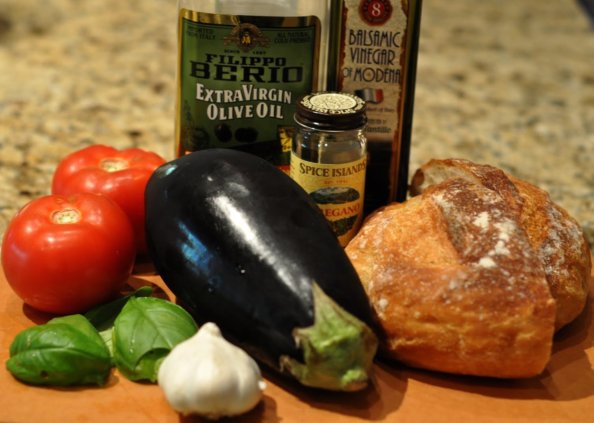 Sometimes I think that side dishes are the bane of my existence.  Sometimes, I'm also a little overly dramatic.  But I do find that we get bored with the same old side dishes, and I'm often looking for new and different recipes to accompany our protein main courses.  This side is one of my most successful discoveries yet.  The ingredients are really simple — grilled eggplant and bread, combined with tomatoes and basil — all dressed with a nice balsamic vinaigrette.  The result tastes like something you would maybe have for lunch with a nice glass of vino bianco at a quaint trattoria off the square of a little town in Italy (except it would be better there because everything is Better In Italy.)
I found this recipe in our well-used grilling cookbook — Weber's Big Book of Grilling.  First up, whisk together the dressing ingredients:  olive oil, balsamic vinegar, minced garlic, dried oregano, Kosher salt and freshly ground black pepper.
Next, cut the eggplant into 1 inch thick circles, then cut the bread into 1 inch thick slices.  Dan continues his obsession with perfecting a homemade bread recipe, and this sourdough loaf was one of his best so far.  The recipe calls for Italian bread, but sourdough or pretty much any other high-quality bread will work as well.
De-seed the tomatoes before cutting them.  Dan does this by cutting off the tops, then using his finger or the handle of a spoon to scoop out the seeds.  Cut the tomatoes into 1/2 inch pieces.
Cut the basil into thin strips.  Dan does this by stacking the basil leaves together, rolling them up like a straw, then cutting the roll from one end to the other.  The fancy name for this cutting method is chiffonade.
Spoon or brush the vinaigrette over one side of the eggplant…
…then place the eggplant with the dressed side down on a grill pan sprayed with non-stick spray and pre-heated to medium-high heat.  Spoon or brush the dressing over the other side of the eggplant while the first side grills.
Grill the eggplant over medium-high heat until it is tender — about 5-7 minutes total — turning once halfway through the cooking process.  You could also cook the eggplant on the grill outside.  Dan cooked it on the grill pan on the stove because he wasn't grilling anything else that night and didn't want to heat up the grill for just this side dish.
Drizzle the dressing over the bread slices.
Then grill the bread slices over medium high heat until lightly toasted — about 2-3 minutes total — turning once halfway through.
Cut the grilled eggplant and bread into 1/2 inch cubes and add them to a bowl with the tomatoes and basil.
Spoon a little dressing over the ingredients and toss them together.  You want to spoon the dressing in small doses so that you don't over-dress the salad and cause the bread to become soggy.  Plus, the eggplant and bread were previously dressed, so there is a lot of balsamic flavor happening already.
We served the panzanella with our Rack of Lamb.  We love the way the fresh basil and tomato flavors of this side dish combine perfectly with the sweet/sour balsamic dressing and grill taste/texture of the bread and eggplant.  The only thing missing was a charming Italian waiter to serve it and a shot of Sgrappino for dessert.  And Italy.