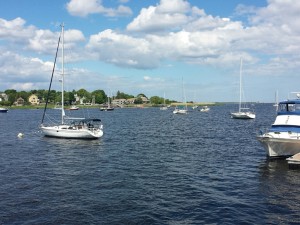 We took a quick trip to visit family in Amesbury last weekend. We had a wonderful time there—as we always do—with fun outings, great food, and most importantly, quality time with some of our favorite people. The weather couldn't have been better, as evidenced by the un-edited photo above (and the still-pink sunburned backs of Dan's legs.)
 Two of said favorite people are becoming quite skilled at climbing trees.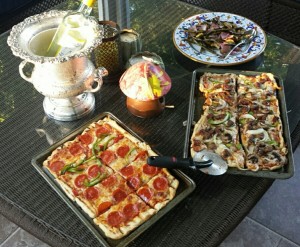 Dan and I have a running joke that his brother J can do pretty much anything, and he usually does it better than most other people. (It's funny because it's true, and because it makes Dan jealous.) Grilling pizza is no exception to this rule. (But our lovely sister-in-law C deserves all the credit for presentation.)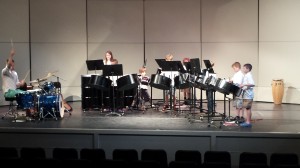 Our nephew (second one on the right) is following in his dad's footsteps of being good at a lot of different things, as he expertly played the steel drums in his ensemble concert on Sunday. It was quite entertaining, and we're so glad we got to be there.
 A sentence I never imagined I would write: We have a new favorite vegan lunch! This brown rice salad takes some time to prepare, but it's well worth the effort, and it can be made ahead. Start by sauteing some onion and red bell pepper in olive oil until the veggies begin to soften, add a clove or two of garlic and cook for about 30 seconds, then add shiitake mushrooms (we also added eggplant, since we had some leftover from a different dish) and cook until the mushrooms release and reabsorb their juices. Season with soy sauce and sriracha to taste. The mushroom mixture provides the "meaty" flavor and texture of the salad, to which you can add whatever raw vegetables you like, in addition to cooked brown rice. We added carrots, radishes, green onions, cucumber and steamed edamame. Bring all the flavors together by tossing the salad with a tiny bit of an Asian style vinaigrette (we used the dressing from this noodle salad recipe.) Serve the salad at room temperature, on its own or as filling for lettuce wraps. If you make the salad ahead of time, store each of the components (cooked mushroom mixture, brown rice, chopped raw veggies, and dressing) in separate containers in the fridge until you're ready to eat.