Some food-related (mostly) things we enjoyed this past week: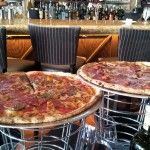 We are pleased to report that the new location of one of our favorite pizza places has opened up in the complex that includes our favorite local movie theater.  Coal Vines is a "pizza wine bar" that specializes in New York-style pizza and has a high-quality, yet reasonably priced wine list.  Theirs is among the best pizza we've had in Dallas, and we're happy to have the new location close to home.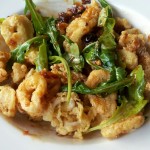 In the same complex as Coal Vines is another favorite, Nick & Sam's Grill, which offers unique bistro-type dishes and upscale comfort food, as well as sushi and several Asian-style appetizers.  We recently fell in love with their crispy Asian calamari, with fried calamari, tiny chunks of pineapple and wilted arugula tossed in a black bean chili garlic sauce.  It has just the right amount of spicy and sweet.  We heard they are re-vamping their menu in the next few weeks, so we hope they don't get rid of our favorite calamari!
When we're not hanging out at our favorite theater and accompanying restaurants (which apparently isn't very often), we manage to branch out to other great local eateries.  Princi Italia is one of those places we tend to forget about, but always enjoy so much that we leave saying "we really should come here more often."  We've never had a bad meal there — from interesting pasta dishes, to pizza cooked in their wood-burning oven, to flavorful panini sandwiches.  And they have the skinniest shoestring fries ever.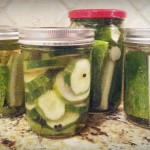 We bid farewell to summer and welcome fall (in spite of temperatures in the high 90s still, with no end in sight) by making our final batch of refrigerator pickles for the season.  We've had a good summer, but fall is a time of change, and we are particularly excited to see what this transitional season has in store for us this year.